Do you know what ShopperMaster is?
If you believe ShopperMaster to be a legitimate program which will assist you with online shopping, you are not exactly right. Of course, the program does present online deals, coupons and allegedly beneficial offers; however, it is impossible to know which of these you should trust. The application acts as an advert-supported program, and most applications of this kind require removal. You should delete ShopperMaster as well if you do not want the suspicious application to represent advertisements which may be completely unreliable. Unfortunately, you are likely to face some unreliable offers, misleading installers, and bogus prize giveaways if you keep the clandestine adware running.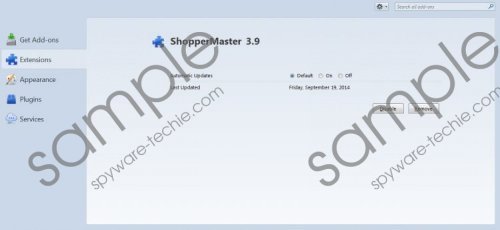 ShopperMaster screenshot
Scroll down for full removal instructions
How is ShopperMaster represented on your personal computer? According to our researchers, the extension has tens and maybe even hundreds of different name variations, including ShOppperMastERu or ShoppErMasTaer, which are meant to aggravate ShopperMaster removal. Of course, this is an issue only outdated, old and unreliable security tools would face. If you do not run trustworthy malware removal software, GoSave, FuNNDeals, CodecEX, and other infamous adware programs could be infiltrated as well. We identify these as the clones of ShopperMaster because they are presented in the same manner, and they are equally as unreliable, which is why you must delete them as well. It is notable that these apps are usually presented by Installrex, and they often enter the operating system bundled with malware and potentially undesirable programs which also require removal. Needless to say, this type of distribution is suspicious; however, it is not unexpected considering that the installer on shoppermaster.info is inactive.
ShopperMaster removal is something you should perform without any hesitations. Even though the app does not seem to be critically malicious, you certainly should delete it because of the related risks. The advertisement-supported program promotes sponsored links via often irresistible offers. Unfortunately, some of these alluring offers promote malware installers, phishing scams, misguiding prize-giveaways or surveys, and other virtual-security targeting threats. Remove ShopperMaster right away using the guides below or, better yet, authentic malware removal software which will delete other malware or PUPs as well.
Delete ShopperMaster from Windows
Delete from Windows 8:
Tap the Windows key to access the Metro UI menu.
Right-click on the screen to open the All apps tab. Click it.
Now select Control Panel and go to Uninstall a program.
Right-click the app you want to remove and Uninstall it.
Delete from Windows Vista/Windows 7:
To open the Start menu click the Windows icon on the Taskbar.
Select Control Panel and then move to Uninstall a program.
Right-click the application you want to remove from the PC.
Select Uninstall and then remove other undesirable programs.
Delete from Windows XP:
Move to the left of the Task Bar and click Start to access a menu.
Select Control Panel and double-click Add or Remove Programs.
Select and Remove the undesirable app (in Change or Remove Programs list).
Remove ShopperMaster from browsers
Remove from Google Chrome:
Launch Chrome and simultaneously tap Alt+F.
In the menu on the left select Tools.
Click Extensions to locate the installed add-ons.
Click the recycle bin icon and choose Remove.
Remove from Mozilla Firefox:
Launch Firefox and simultaneously tap Ctrl+Shift+A.
As the Add-ons Manager opens – click Extensions.
Identify the undesirable extension and Remove it.
Uninstall the program from Windows using the guides below to delete it from Internet Explorer.
In non-techie terms:
ShopperMaster is not a program you should trust. This advertisement-supported program may be installed packaged with other threats, some of which may be silent and run without your notice. This is the main reason we suggest the automatic malware removal option instead of the manual one. Furthermore, most computer users do not delete ShopperMaster leftovers, which may cause other issues. Employ the instructions below if you cannot install automatic malware removal software in a regular manner.