Do you know what Shopop is?
Shopop is an adware application that has been created in order to improve your online shopping experience. Unfortunately, more often than not such applications are considered potentially unwanted programs, because they are vulnerable to third party exploitation. Hence, if you have Shopop installed on your, it would be in your best interest to remove Shopop from the system as soon as possible. This application is not a direct computer security threat, but no security-minded computer user would want to have Shopop on his/her system.
The main website for Shopop is available at shopop.me/index3.html but just as it is very common with such adware applications, the download link does not work there. It means that Shopop is usually distributed bundled with freeware, and you need to be careful whenever you download and install new applications from third party websites. According to our security researchers, Shopop is related to Snap.do, considering that both applications have similar Smartbar folders. What is more, based on the application's logo, this plug-in could be related Lyrics adware and other similar applications.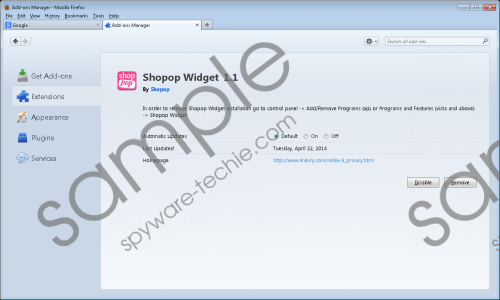 Shopop screenshot
Scroll down for full removal instructions
Since Shopop is an adware program, the main reason why it enters your computer is to display pop-ups. Technically, these commercial advertisements should help you obtain useful information on where to purchase the goods you want at an optimal price. However, you have to keep in mind that Shopop does not review the content it embeds in its pop-ups. Hence, anyone who knows how to do it can add their content to Shopop pop-ups, and in the long run you could be exposed to potentially corrupted websites or any other material.
For the most part, you will most probably be redirected to affiliated commercial websites that intend to increase their traffic. You may also be asked to fill out several online marketing surveys. Such behavior is more annoying than useful, but you need to keep in mind that Shopop and other similar adware applications are created to generate financial revenue. Therefore, unless you are careful, you might end up spending money on something you neither need nor want.
It should also be pointed out that since Shopop generally comes with other applications, there is a high chance that apart from Shopop, you will have a lot of other potentially unwanted programs on your computer. Luckily, it is possible to uninstall Shopop via Control panel, and the same can be applied to other programs as well. After manual removal be sure to run a full system scan with a licensed antimalware tool and then invest in a computer security application if need be.
How to remove Shopop
Windows 8
Move mouse cursor to the bottom right of the screen.
Click Settings on Charm bar and go to Control Panel.
Select Uninstall a program and remove Shopop.
Windows Vista & Windows 7
Open Start menu and click Control Panel.
Go to Uninstall a program and remove Shopop.
Windows XP
Click Start menu button and navigate to Control Panel.
Select Add or remove programs and uninstall Shopop.
In non-techie terms:
Shopop is a potentially unwanted program that may display a lot of annoying pop-up advertisements when you browse the Internet. It is for the best to remove Shopop from your computer right now to avoid any undesirable consequences.