Do you know what ShopMoreApp is?
If you install ShopMoreApp on your system, there is no doubt that you will start seeing various coupons, deals, and other advertisements on your screen. It is very likely that they will appear on various online shopping websites; however, you might detect them on different kinds of websites as well. ShopMoreApp does not differ from other advertising-supported applications; thus, it is very likely that all those ads will be very annoying and even disrupt your browsing session. The security experts at spyware-techie.com recommend that you delete ShopMoreApp as soon as possible because it is not the most reliable application. On top of that, it will not do anything beneficial for you because it has been published in order to drive traffic to different kinds of websites.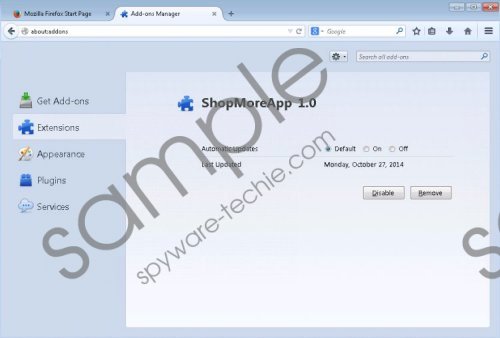 ShopMoreApp screenshot
Scroll down for full removal instructions
Even though ShopMoreApp promises to help you save time and money on such commercial websites as ebay.com, amazon.com, bestbuy.com, and walmart.com, you should not believe any word of this unreliable application because it will not act in a beneficial way. Actually, it is very likely that it will expose you to potential threats because unreliable links might be embedded into ads. As you have probably understood, it is not advisable to click on ads generated by ShopMoreApp. Of course, you should still erase ShopMoreApp from the system in order not to click on those ads without wanting to do that.
It has been found out that ShopMoreApp will not only show commercial advertisements, but also collect information associated with your activities on the web. Luckily, it is not interested in personal details; however, it states that it cannot guarantee the absolute security of your personal information. As you can see, is rather risky to keep ShopMoreApp on the system. Therefore, you should eliminate it as soon as possible. You should especially hurry to do that if you want to protect your computer from other infections that might enter the system via ShopMoreApp.
Luckily, it is not a very serious infection; thus, you will be able to get rid of it rather easily. Just follow our manual removal instructions placed below the article and you will definitely erase ShopMoreApp without any difficulties. If you do not have time for the manual removal of this undesirable program, you should invest in an antimalware tool and then let it do all the work for you.
Remove ShopMoreApp
Windows XP
Click the Start button.
Select Control Panel.
Click Add or Remove Programs.
Select the suspicious application.
Click the Remove button.
Windows 7 and Vista
Open the Start menu.
Select Control Panel.
Click Uninstall a program.
Right-click on ShopMoreApp.
Click the Uninstall button.
Windows 8
Tap the Windows key.
Right-click on the background and select All apps.
Locate Control Panel. Open it.
Click Uninstall a program.
Select the unwanted program and then click Uninstall.
In non-techie terms:
In order to protect your system from various future infections, you should install an antimalware tool on the system and keep it enabled all the time. It is very likely that you will not encounter unreliable programs anymore; however, you should still be very cautious and never download programs from unreliable websites. On top of that, you should always find out whether the application is trustworthy prior the installation on your system.