Do you know what ShopDrop is?
ShopDrop is an adware application from a big group of potentially unwanted software that gets distributed via DomalQ installer. ShopDrop is very similar to such applications as DealEXpress, Websaver, CoupExtension, and so on. Although this application promises to cut down on your expenses when you shop online, judging from the history of its predecessors, it is clear that ShopDrop will not keep its promises. It is necessary to remove ShopDrop and all the other related programs from your computer as adware applications could easily expose you to potential security threats.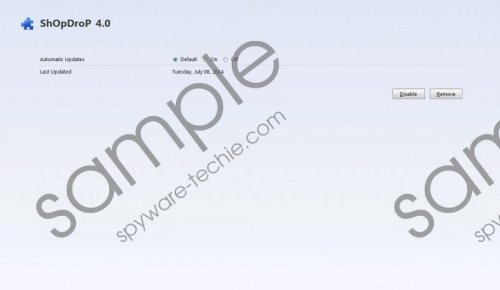 ShopDrop screenshot
Scroll down for full removal instructions
One of the most disturbing features of such applications is that users often install ShopDrop and similar programs onto their systems themselves. These adware programs come bundled with freeware and potentially unwanted software. As it has been mentioned above, ShopDrop arrives mostly with DomalQ installer. This installer promotes fake Java and Adobe flash updates that are promoted on various commercial and third-party websites. Suspicious pop-ups urge users to download and install Java upgrade or a new media player, to improve video viewing quality. However, downloading anything via unofficial links eventually results in installing adware and other unwanted software onto your computer. ShopDrop included.
One would also expect that it is possible to download ShopDrop at the official website via shopdrop.info, but as it is very common with such adware applications, the direct download link does not work on the official site. Instead, clicking the download button redirects you to Chrome Web Store. The information on the website claims that ShopDrop will be "available soon" for Google Chrome at Chrome Web Store, but it is more than obvious this "soon" is not happening. Therefore, it is clear that ShopDrop's only method of distribution is bundled downloads, and you are responsible for your computer's security yourself.
In case you happen to install ShopDrop onto your system, you will notice that this is one of those applications that randomize their name. Thus, the entry on the list of installed programs might read as ShoipDrop, SHopuDrop, ShoPPDrop, SShoDrOp and so on and so forth. Nevertheless, it is still the same application we are talking about here, and the bottom line is that you should not tolerate ShopDrop on your computer.
This program affects all major browsers by displaying annoying pop-ups and commercial advertisements. These advertisements may contain corrupted third-party links to unfamiliar and possibly dangerous websites. This is the main security concern when it comes to ShopDrop, and the main reason you need to remove this application.
Uninstall ShopDrop right now via Control Panel and then scan your computer with SpyHunter free scanner in search of additional unwanted applications. Keep your computer safe and clean because your personal data security depends on it.
How to uninstall ShopDrop
Windows 8
Move mouse cursor to the bottom right of your screen.
When Charm bar appears click Settings and go to Control Panel.
Select Uninstall a program and remove ShopDrop.
Windows Vista & Windows 7
Open Start menu and click Control Panel.
Go to Uninstall a program and remove ShopDrop.
Windows XP
Click Start menu and navigate to Control Panel.
Select Add or remove programs and uninstall ShopDrop.
How to remove ShopDrop from browser
Mozilla Firefox
Press Alt+T and click Add-ons.
Disable and remove ShopDrop from Extensions.
Restart browser.
Google Chrome
Press Alt+F and go to Tools.
Select Extensions and remove ShopDrop.
In non-techie terms:
Keeping ShopDrop on your computer is not safe. You need to remove all the adware and potentially unwanted applications immediately. Please refer to additional set of instructions below this description for a full adware removal.