Do you know what ShopAtHome is?
ShopAtHome is a browser extension that has quite extensive permissions. The program can read and change the data on the sites that you visit and modify your bookmarks together with your browsing history. The application is meant to collect information regarding your virtual activity to learn what offers you may be interested in. Once installed, the extension will be presented via a tab in your Chrome, IE, or Firefox browser menu. Even though the application may seem to be useful, most users choose to delete ShopAtHome without any hesitation. We also recommend removing the program, because it is not as useful as you may think, and because it is quite intrusive.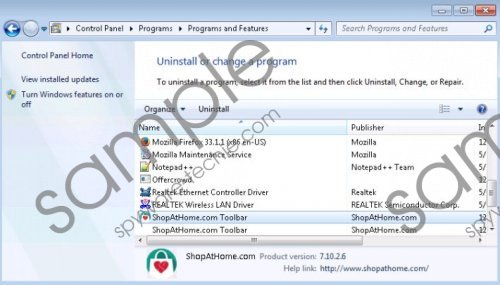 ShopAtHome screenshot
Scroll down for full removal instructions
The ShopAtHome extension works alongside shopathome.com. This website is meant to present useful online coupons. Users can browse Online Coupons, Grocery Coupons, Coupon Codes, and various other offers presented on the site. Even though ShopAtHome should help you save money, you have to be careful with this advertisement-supported program. The pop-up ads presented by the application could route you to useless websites. Furthermore, some of the coupons could not represent the best deals. Our malware researchers believe that you will be able to save lots of money only if you research discounts yourself. Do not rely upon an automated service which is highly questionable. If you decide not to remove ShopAtHome, you have to be ready to deal with the data-tracking web cookies and the unstoppable pop-ups. While you can delete the cookies, the pop-ups will disappear only if you delete adware.
Unfortunately, ShopAtHome is distributed using software bundles, and this means that a variety of different programs could be installed alongside this adware. Do you know which programs you can trust and which require immediate removal? Use a malware scanner to learn which programs you should delete from your operating system. If you cannot delete them manually – install a legitimate malware remover. Luckily, ShopAtHome removal is far less complicated. All you need to do is uninstall the program and delete it from the web browsers.
Delete ShopAtHome from the PC (uninstalls from IE)
Delete from Windows 8:
Right-click on the Metro UI screen and click All apps to open the Apps menu.
Select Control Panel to open a menu and click Uninstall a program.
Right-click the application you have chosen to remove and select Uninstall.
Delete from Windows Vista and Windows 7:
Move to the Taskbar and click the Windows logo to open the Start menu.
Select Control Panel to open a menu and click Uninstall a program.
Right-click the application you have chosen to remove and select Uninstall.
Delete from Windows XP:
Navigate to the left of the Taskbar and click Start to open a user menu.
Open the Control Panel menu and then double-click Add or Remove Programs.
Click the undesirable application and select Remove.
Remove ShopAtHome from the browsers
Remove from Mozilla Firefox:
Launch Firefox and simultaneously tap Ctrl+Shift+A to access the Add-ons Manager.
In the menu on the left click Extensions and Remove the undesirable add-ons.
Remove from Google Chrome:
Launch Chrome, simultaneously tap Alt+T, click Tools, and select Extensions.
Locate the undesirable add-on, click the trash icon on the right, and select Remove.
In non-techie terms:
ShopAtHome is not the most beneficial application. In fact, it is an advertisement-supported program, which means that its services are based on the relationship to affiliate parties. It is impossible to know how safe the service is, and you have to be careful about the different security risks. Keep in mind that some of the ads presented by adware could be linked to drive-by download attacks. ShopAtHome removal is not complicated, and you can delete the program manually; however, we strongly recommend using automatic malware removal software to delete the remaining infections.