Do you know what Shop For Rewards is?
Shop For Rewards is an application developed by Wajamu and supported by Pitaya Tech Ltd. The latter company promotes the program at pitaya-tech.com; however, this is not the source used for the distribution of the infamous advertisement-supported program. As our researchers have discovered, the installer found on the official download site represents VBates, and so it is not surprising that most users delete Shop For Rewards after running bundled software installers represented by unrelated parties. Of course, the real issues related to the disturbing program will begin right after the installation is completed.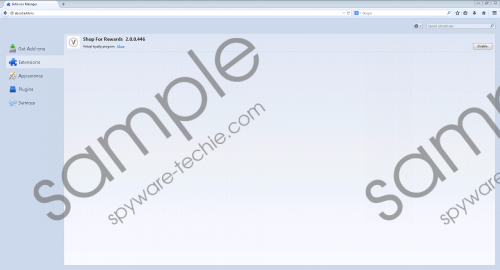 Shop For Rewards screenshot
Scroll down for full removal instructions
Our experienced malware researchers have discovered that Shop For Rewards may be installed onto Mozilla Firefox, Google Chrome and sometimes even Internet Explorer browsers, and the processes of the program are controlled via gvc.exe and vbsprn.exe services. Note that in most cases it will not be enough to terminate undesirable processes and delete undesirable extensions to remove Shop For Rewards from the operating system. Needless to say, it is necessary to remove the program because it is responsible for introducing an array of unpredictable, sometimes unreliable and useless advertisements. What is more, the program may collect personally identifiable information and allow undisclosed (supposedly reliable) parties to install web cookies that may be even more intrusive. Overall, Shop For Rewards removal is not something that you should postpone simply because the program is not beneficial at all.
Computer users often believe that they remove Shop For Rewards after uninstalling it from the PC. In reality, the application leaves some junk files behind. Others forget to take care of the removal of the additional threats, some of which may enter bundled with adware. Do you know a quick way to delete Shop For Rewards, the additionally bundled threats, and guarantee that other unreliable programs cannot be installed? You do not need to look far for a reliable security tool that will enable automatic malware removal and a reliable shield against other threats.
Delete Shop For Rewards from Windows
Delete from Windows 8:
Tap the Windows key to access the Metro UI menu and right-click on the screen.
Select All apps, then click Control Panel to open a menu and select Uninstall a program.
Right-click the undesirable application you wish to remove and select Uninstall.
Delete from Windows Vista/Windows 7:
To open the Start menu click the Windows button on the left of the Taskbar.
Now click Uninstall a program and locate the undesirable program Shop For Rewards.
Right-click the application you want to remove from the PC and select Uninstall.
Delete from Windows XP:
Move to the left of the Task Bar and click the Start button to open a menu.
Open the Control Panel and then double-click Add or Remove Programs.
In the Change or Remove Programs list find and Remove the undesirable program.
In non-techie terms:
If you do not know how to delete Shop For Rewards and other running threats manually but you cannot seem to be able to install reliable security software to delete malware automatically, it is possible that much more devious threats are active. Immediately employ the instructions below to install authentic security software that will eliminate computer threats and will shield the system against any attacks.