Do you know what Shop Easy is?
SuperWeb LLC has introduced another application that is utterly useless -- and even dangerous -- so we encourage you to act as a security-minded computer user by removing this application from your system. The developer is already well-known in the computer security community for a high-number of browser extensions designed to promote the commercial content by third-party advertisers. There is nothing unique about Shop Easy, and it functions identically to Pine Tree, Web Amplified, Dollar Dream, and other SuperWeb applications. So, if you have already had the opportunity to run into any of the said applications, you probably know that the best way to deal with them is to delete them.
This application is promoted via letsshopeasy.com, but you will not be able to download the app from there. However, this does not mean that there are not any other sources from which to acquire Shop Easy. Even if you do not want this application on your system – and why should you? – you can still accidentally install it in your computer. Shop Easy can easily reach you via third-party installers of the the software distributed on unreliable file sharing sites. What's more, if you are not extremely attentive during the installation process, you might end up needing to remove not only Shop Easy, but other unwanted or dangerous software as well.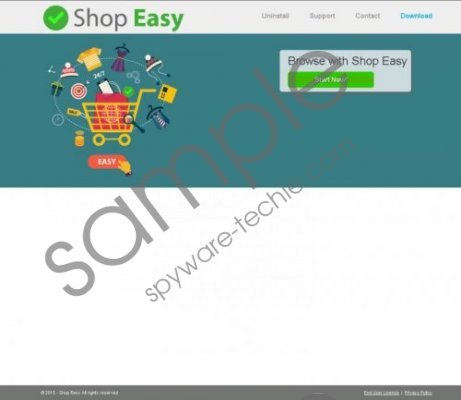 Shop Easy screenshot
Scroll down for full removal instructions
The moment Shop Easy gets on your machine, it starts to utilize certain tools and technologies to follow your online activity. Generally, this data is collected with the purpose of providing you with the best deals and hottest shopping opportunities. However, this data recording is considered suspicious activity, so it is best that you remove Shop Easy at the first possible opportunity. Even if you choose to tolerate this questionable surveillance, the commercial offers this application shows will rarely appear relevant. Besides that, the pop-ups, banners, coupons, and discount info that pop up on your browser screen might be connected to malicious entities. Thus, you should delete Shop Easy if you do not want to be led to suspicious sites, and thereby risking infecting your computer with malware.
As demonstrated by this article, Shop Easy is an advertising-supported application that you should remove as soon as possible. This program will not provide you with any benefits; it will only flood your browser with extraneous content. You can terminate this application in two ways: manual and automatic. Though we have provided the instructions for the former, we strongly advise that you choose the latter option to neutralize the application. Invest in an automatic antimalware tool that would scan and protect your computer from infections 24/7.
Remove Shop Easy from your machine
Windows 8 & 8.1
Open the Charm bar and click on Settings.
Go to Control Panel and open Programs and Features.
Select Shop Easy in the program list and click Uninstall/Change.
Windows 7 & Vista
Click on the Start button to open the Start menu.
Click on the Control Panel menu item.
Select Shop Easy in the program list.
Click Uninstall/Change.
Windows XP
Click on the Start button to open the Start menu.
Click on the Control Panel menu item.
Select Shop Easy in the program list.
Click Remove to delete Shop Easy from your operating system.
In non-techie terms:
Shop Easy is an adware application that will display third-party content. The reason why you should remove this app from your system is that it might take you to third-party pages which can contain suspicious content. If you do not want to risk infecting your computer with Trojans, ransomware, or other threats, seek the assistance of reliable antimalware software.