Do you know what ShinigamiLocker Ransomware is?
ShinigamiLocker Ransomware can sneak onto your computer behind your back and take your personal files hostage by encrypting them. If you find this dangerous threat on your computer, this could be your biggest nightmare so far. Do not get your hopes too high just because your attackers claim to release your files after you transfer the demanded ransom fee. Our researchers say that there is never any guarantee that criminals will send you the decryption key or decrypt your files remotely even if you pay. There could also be technical issues that could make this impossible, for example, when the connection with the remote server breaks. As a matter of fact, the only way for you to recover your files is to have a backup. But even if you do not have one, you cannot use your computer anymore unless you remove ShinigamiLocker Ransomware immediately. Before you jump to the end to do so, let us tell you in more details what we have found out about this severe hit.
Our researchers have tested and examined this malware threat in our internal lab and found that it could be spread in a couple of ways. First of all, the most likely one is via spam e-mails. This ransomware can pose as an image or document attachment whose icon would probably match its fake file type. The worst part is probably the fact that you yourself can only be blamed for such an infection. We advise you to become more cautious around your mails learning from this attack. The biggest problem with spam mails of today is that they can be very convincing indeed. The most confusing part of such a mail is probably its subject matter that can really seem urgent. This subject can be any supposed issue with your credit card, your bank account, an online booking that went wrong, an undelivered parcel problem, or anything that you may consider important and urgent. This spam may also seem to have come from the local authorities, which you would most likely consider undoubtedly important, right? Please note that viewing the attached file can cost you all your important personal files. Also, even if you delete ShinigamiLocker Ransomware, this will not give you your files back. Yet, this is what you need to do if you ever want to use your computer again.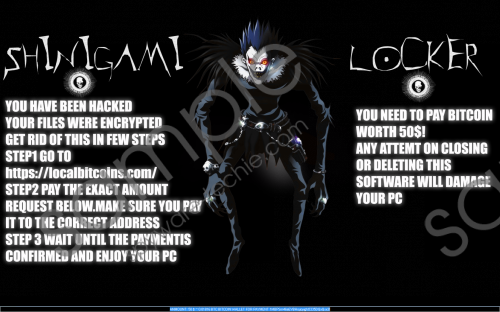 ShinigamiLocker Ransomware screenshot
Scroll down for full removal instructions
Another important thing to mention about this vicious program is that it may also attack you through malicious webpages if your browsers or drivers are not up-to-date. Cyber criminals can use so-called Exploit Kits to create webpages that can drop such an infection without your noticing it. Of course, your browsers and drivers need to be outdated for this type of attack to work since these kits can take advantage of security bugs present in older versions. Clearly, if you want to avoid such nightmares, you need to update your programs regularly and refrain from clicking on random third-party ads and links that could possible redirect you to such a malicious page. No matter how you have been infected though, we recommend that you remove ShinigamiLocker Ransomware ASAP.
This malware infection is very similar to its predecessors in a number of aspects. For example, it targets the usual personal files because in this case the victim is more inclined to pay the ransom fee. It also uses the generally applied AES algorithm, which is a built-in encryption in your Windows operating system. Your affected files get a new name that consists of a combination of eight alphanumeric characters with a ".shinigami" extension. This way you can easily measure the damage this ransomware has done.
After the encryption is finished, this threat displays its ransom note screen that locks your screen. This note informs you about hacking your computer and encrypting your files. You are supposed to transfer $50 worth of Bitcoins to a Bitcoin wallet address shown in this note. These criminals threaten you to lose your files if you dare to delete ShinigamiLocker Ransomware or exit this program. Since your screen is locked, you may really think that there is no other way out of this malicious attack than paying the fee. But we would like to warn you to think twice before transferring money to cyber criminals because there is no guarantee that your files will be decrypted. We advise you to act right now and remove ShinigamiLocker Ransomware from your PC.
Before you could eliminate this dangerous threat source, you need to reboot your PC so that you kill the screen lock. This is possible because fortunately this ransomware does not autostart with your operating system. Once you log in, you can try to identify the malicious .exe file and delete all other files you may believe to be suspicious. You can use our guide below as a reference if you feel up to this task. However, it is possible that you would prefer an automated tool instead; therefore, we recommend that you install a decent up-to-date anti-malware program like SpyHunter for the best possible protection of your PC.
Remove ShinigamiLocker Ransomware from Windows
Reboot your system.
Tap Win+E to open the File Explorer.
Delete all suspicious executable files you have saved lately.
Empty your Recycle Bin and reboot your computer.
In non-techie terms:
ShinigamiLocker Ransomware is a new danger that can appear on your computer without your knowledge and encrypt your precious files in no time. There is no way you can stop the amok running of this malicious program. Thus, it is quite possible that you will lose the encrypted files for good unless you have a backup copy. It is important that you understand that it is not really a solution to send money to such criminals. On the one hand, it is quite likely that your files will not be decrypted anyway; on the other hand, you would support cybercrime this way. We believe that it is important that you remove ShinigamiLocker Ransomware right away. If you would like to protect your PC from future attacks, we advise you to start using a reliable anti-malware program.