Do you know what ShieldPlus is?
ShieldPlus is an adware application that is promoted as a useful tool that can help you protect your computer from a variety of cyber threats. Unfortunately, ShieldPlus may be considered to be a cyber-threat itself. This application could be exploited by cybercriminals to promote annoying and potentially corrupted content. It may not be a malicious computer infection, but it does raise specific security concerns you should not ignore. Therefore, the sooner you remove ShieldPlus from your computer, the better. Do not hesitate to leave us a comment if you have any questions.
The homepage for ShieldPlus is located at shield-plus.com. Nevertheless, it is not possible to download the application at the main website. The main website says that with ShieldPlus you can save your browser's "default homepage, new tab and search settings." That would imply that when you install this application on your computer, it does not allow dangerous intruders to modify your browser settings without your permission. Technically, ShieldPlus should function just like Browse Guardian, Savings Wave and other applications. Yet, instead of providing you with an actual browser security guard, this application exposes you to potential system security threats.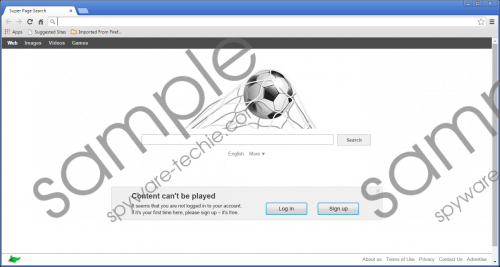 ShieldPlus screenshot
Scroll down for full removal instructions
First, you might wonder how ShieldPlus entered your system when there is no direct download link for the application. The answer is rather simple: bundled downloads. All adware applications get distributed bundled with freeware via third-party installers. These installers are usually uploaded on file sharing and torrent websites and users accidentally initiate the bundled installer download when they click fake download buttons or any kind of outgoing links. Before you know it, ShieldPlus enters your system along with a number of other potentially unnecessary applications, and then you need to deal with an entire list of annoying programs.
You will definitely notice that you have an adware program on your computer because applications like ShieldPlus make web browsing an unbearable experience. It floods you with commercial ads each time you access online shopping websites. What is more, it is also possible to get redirected to potentially corrupted websites if ShieldPlus ads are embedded with third-party links. That may happen quite often because this application does not check whether its ad content is safe or not. Even if ShieldPlus does have a privacy policy, it does not cover third-party content.
Therefore, you need to take matter into your hands and terminate ShieldPlus once and for all. Uninstall the application via Control Panel and then scan your PC with SpyHunter free scanner in search for other unwanted applications (because you are bound to have some). When you have terminated all the unnecessary programs, please invest in a powerful computer security application to avoid similar intruders in the future.
How to remove ShieldPlus
Windows 8
Move mouse cursor to the bottom right of the screen.
When Charm bar appears click Settings and go to Control panel.
Select Uninstall a program and remove ShieldPlus.
Windows Vista & Windows 7
Open Start menu and click Control panel.
Go to Uninstall a program and remove ShieldPlus.
Windows XP
Click Start menu button and select Control panel.
Go to Add or remove programs and uninstall ShieldPlus.
In non-techie terms:
ShieldPlus is a potentially unwanted program that collects data on your web browsing habits and then exposes you to commercial third-party advertisements. You should remove ShieldPlus along with other adware applications immediately, to avoid potential computer security complications.