Do you know what ShieldFix PC Cleaner is?
If your PC seems to underperform, you might think that ShieldFix PC Cleaner could be your savior when you check its website and read that it is the "best one" on the market. Unfortunately, due to some questionable functionalities and behaviors this software has been classified as a potentially unwanted program, i.e., PUP. Although this application is no threat to your system, it may be a bit too aggressive on the marketing front. If you have not installed this program from its official site, it is also possible that you have other more serious problems already on your computer. It is important for you to know what you might be up against if you keep this PUP. After the research that has been conducted in our lab, we think that it would be best to remove ShieldFix PC Cleaner from your PC.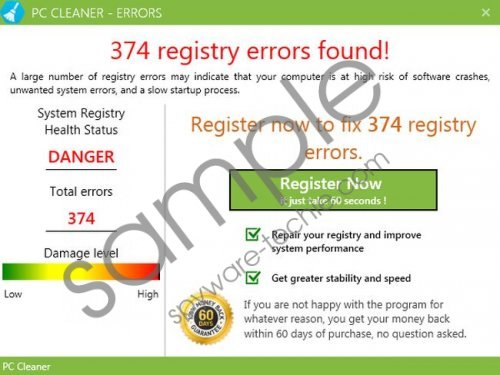 ShieldFix PC Cleaner screenshot
Scroll down for full removal instructions
You will find ShieldFix PC Cleaner's website at shieldfix.com/products/pc-cleaner, which is a decent and informative site, even though it was not fully functional a little while ago. While you can download the software directly from this site, you need to know that this is not the only way you can get it onto your computer. Unfortunately, it is also distributed in free software bundles that may contain malware, such as adware, other PUPs, and browser hijackers. These infections can potentially harm your system's security and your privacy as well. You might easily expose your system to suspicious or malicious websites, for example. But there are all kinds of other, more severe issues when it comes to malware. If you would like to know more about these infections, please use our search box at the top or use the categories menu. In any case, you are better off deleting ShieldFix PC Cleaner and running a full system scan afterwards.
ShieldFix PC Cleaner claims to clean your system of malware using "effective scanning technology", clean up system clutter, and fix registry issues in order to make your computer "run faster and error free." While it offers free scan, it usually comes back with hundreds of threats found that require your immediate attention. However, our malware specialists have found that these results may not be accurate and could be used to push the unsuspecting user to buy the product. This is by far not the best or most effective product you can find on the market, and not the cheapest either. Therefore, we would suggest looking for a more reliable application and removing ShieldFix PC Cleaner from your computer.
If you want to get rid of ShieldFix PC Cleaner manually, you can do it via Control Panel as it has a perfectly working uninstaller. But, keep in mind that there might be malware infections on your computer as well. They also need your attention and they may not be so easy to detect or remove manually. That is why the best and most effective solution for you would be the use of a reputable antimalware application. A powerful security tool can defeat all known infections and fix your computer. But do not forget about updating your operating system, browsers, and your drivers as well in order to lower the vulnerability of your system.
How to remove ShieldFix PC Cleaner
Windows XP
Press Start and select Control Panel.
Select Add or Remove Programs.
Click on the unwanted application.
Click Remove.
Windows Vista and Windows 7
Access the Start menu.
Select Control Panel.
Access Uninstall a program.
Select the unwanted application. Click Uninstall.
Windows 8 and Windows 8.1
Press Win+X and select Control Panel.
Click Uninstall a program.
Find the unwanted application. Click Uninstall.
In non-techie terms:
ShieldFix PC Cleaner has been labeled as a potentially unwanted program since there are certain behaviors that make the reliability of this software questionable. Although it is possible to download it from its website, it is also available in free software bundles. These bundles may contain malware infections that can put your system's security at risk. In order to keep your security intact, we recommend removing ShieldFix PC Cleaner and all possible threats as well. If you want to be perfectly sure your system is clean, it is best to use a reliable malware removal tool to fix all security issues.