Do you know what Shielddefense.net Redirect is?
Shielddefense.net Redirect is one more potentially unwanted program that should not be active on your personal computer. If unfortunately, it is already up and running on your PC, we highly advise you to conduct its thorough removal. It is important to do so because this application exhibits invasive functionality. It has been classified as a potentially unwanted program due to its ability to change your browser's default settings without any authorization or notification. Unfortunately, such alterations will only make surfing the web a less enjoyable experience. What is even more alarming is that this potentially unwanted program could be the reason your operating system might be exposed to suspicious web content. To find out how that could happen, be sure to read the rest of our report. Besides such information, we also provide a detailed removal guide that you should use to delete Shielddefense.net Redirect once and for all.
A lot of users download Shielddefense.net Redirect since it is marketed as a great tool that is capable of blocking invasive ads and potentially malicious websites. However, these statements are not entirely true. While this potentially unwanted program can block adverts and pop-ups, it is also capable of making invasive changes to your browser's default settings. Even though at the moment this invasive application is compatible with the Google Chrome web browser, users that prefer other browsers should still be aware of its existence because its developers might launch an upgraded version of this application that could affect other major browsers. The potentially unwanted program alters your default search engine without any warning. That is done with the help of a third-party extension, which essentially triggers the modification and maintains it. Due to such functionality surfing, the web will become a much more annoying experience. Having this devious program fully active on your PC means that you will have no choice but to use a suspicious third-party search engine for every single online query. What is even more frustrating is that the suspicious search provider could present you with a large number of third-party sponsored results instead of useful ones; some of them might not be related to your original query in any way. If you want to surf the web the way you like once again, make sure to execute a complete removal of Shielddefense.net Redirect at the very same time that it is found up and running on your PC.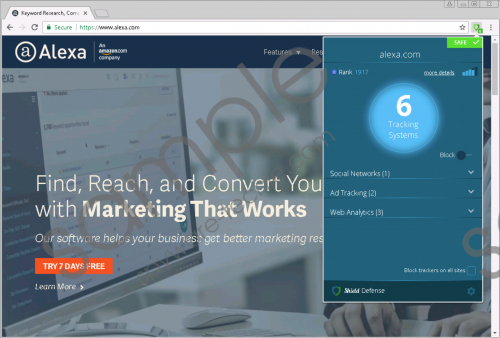 Shielddefense.net Redirect screenshot
Scroll down for full removal instructions
It is critical to note that in some cases Shielddefense.net Redirect might be distributed via bundled installers. While this does not happen often, it could prove to be a dangerous instance because malware developers often use such setup files as means of distribution. Thus, the potentially unwanted program could come along with other suspicious applications. If you already have Shielddefense.net Redirect on your PC, we highly advise you to check your operating system for other suspicious software. Another questionable thing regarding this program is the newly appointed search engine. As it turns out, this search provider could present you not only with annoying but even modified search results. That is a dangerous instance because such results could be implemented with redirect links, which might lead you to questionable and even dangerous web sites. There is a chance that you could enter sites that host malicious software. Unfortunately, in some cases just landing on such a site could be enough to infect your personal computer with some unknown malware. While results hosting redirect links do not occur often, a chance of coming across one remains. If you value your virtual security, do not take any chances with Shielddefense.net Redirect and execute its complete removal.
Below we present a detailed removal guide that will help you delete Shielddefense.net Redirect in its entirety. It is imperative to terminate every single bit of this potentially unwanted program since that is the only way to regain your browser's default settings. If after manual removal, you are still not able to use the search engine of your preference, it is likely that some traces of Shielddefense.net Redirect are still active on your PC. If that is the case, you must check your entire operating system for any leftovers associated with Shielddefense.net Redirect. If you happen to find any traces, make sure to delete them immediately.
How to remove Shielddefense.net Redirect from your computer
Open your File Explorer.
Navigate to C:\Users\[your username]\AppData\Local\Google\Chrome\User Data\Default\Extensions.
Right-click a folder called eadnlkgpakfjkgpgndbpmenoacfjahgo and then select Delete.
Navigate to C:\Users\[your username]\AppData\Local\Google\Chrome\User Data\Default\Local Extension Settings.
Right-click a folder called eadnlkgpakfjkgpgndbpmenoacfjahgo and then select Delete.
Close your File Explorer.
Right-click your Recycle Bin and then select Empty Recycle Bin.
In non-techie terms:
If you believe that manual removal is a bit too complicated, do not worry. Our malware experts are well aware of this fact and so have developed an alternative removal guide. Follow the instructions below and you will be able to terminate Shielddefense.net Redirect in a fully automated manner.