Do you know what SharPlayer is?
SharPlayer is represented as a beneficial tool, but our research team identifies it as a potentially unwanted program (PUP). This program supposedly allows you to create playlists using "online and offline videos" by inputting the URLs of these videos into the player. Unfortunately, this is not the only service that this suspicious program provides. The main reason we recommend deleting SharPlayer is that it injects third-party advertisements, which can bring you trouble. As you probably know, ads created by unknown parties can be misleading, malicious, and dangerous. Although you might encounter completely harmless ads, you need to consider the risk of facing malicious ads if you choose to postpone the removal of the PUP.
If you have not acquired SharPlayer from its official download site, sharplayer.com, you probably have downloaded it bundled with third-party programs. Our research has shown that advertisement-supported software and other potentially unwanted programs could be packaged with SharPlayer. In some cases, it might be difficult to recognize the malicious or unreliable programs active on your PC, especially if they use disguises. Fortunately, you can use a malware scanner to figure out if you need to delete other unwanted programs. We strongly recommend installing a malware scanner if you have downloaded FastPlayer, NewPlayer, Mangoplayer, or any other clone of SharPlayer. These programs might travel with programs that require removal as well.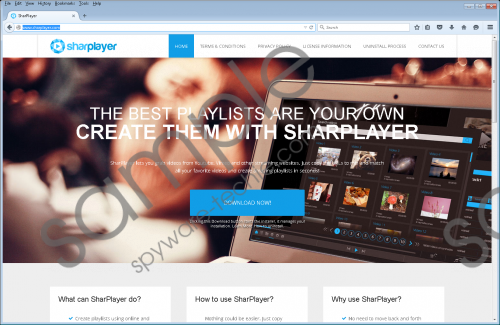 SharPlayer screenshot
Scroll down for full removal instructions
Although we identify SharPlayer as a potentially unwanted program, it is fair to call it an advertisement-supported program as well. As disclosed via EULA, this suspicious application can showcase promotional content in the form of online offers, video-targeted ads, etc. Even though it is unfair to say that this is done without permission, most users do not expect to see ads after installing SharPlayer. Considering that these ads are implemented by unknown third parties, we cannot know whether they will be used to promote authentic offers or misleading scams. If you do not want to become a victim of scams, you should consider removing SharPlayer right away.
Can you handle the removal of undesirable software? If you have never dealt with this in the past, you might be intimidated, but you should have no trouble deleting SharPlayer if you follow the steps provided below. Of course, manual removal is not ideal if other unreliable programs are active on your PC. In that case, we suggest installing an automated malware remover that you can trust. Keep in mind that if you install a malicious program pretending to offer reliable security services, you will put yourself and your virtual identity into more trouble.
Remove SharPlayer from Windows
Remove from Windows 10
Find the search box on the Taskbar.
Type Change or remove programs and click the utility found to open it.
Right-click the program you wish to delete and choose Uninstall.
Remove from Windows 8.1/Windows 8
Move to the bottom-right corner in Metro UI to open the Charm bar.
Click Search, enter Uninstall a program, and open this menu.
Right-click the application you want to delete and select Uninstall.
Remove from Windows 7/Windows Vista
Move to the left of the Taskbar and click the Windows logo.
Open the Control Panel menu and click Uninstall a program.
Right-click the application you wish to delete and click Uninstall.
Remove from Windows XP
Move to the left of the Taskbar and click the Start button.
Open the Control Panel menu and double-click Add or Remove Programs.
Select and Remove SharPlayer.
In non-techie terms:
Although SharPlayer is not a malicious program, the ads injected by it have to be taken seriously. After all, any ad can act as a security backdoor, and if you encounter ads created by malicious parties, you could become a victim of devious scams. The removal guide above explains the removal of SharPlayer one step at a time. If you have any troubles getting rid of this PUP, do not hesitate to start a discussion below. Of course, it is worth investing in a security tool that could protect you from suspicious and potentially unwanted programs in the future, as well as delete currently active threats.