Do you know what Sexy Tube Mode is?
Sexy Tube Mode is an application that dims your screen while you are watching YouTube videos; however, it can also litter your computer screen with useless and potentially harmful third-party ads. If you think that you can avoid these ads by simply not clicking on them or closing them, we must tell you that only removing Sexy Tube Mode can save your system from the unwanted consequences. You might even accidentally click on an ad that perhaps redirects you to a malicious website. This adware can also infiltrate your system along with other infections. Having this useless app on your computer may not end well for you. You need to act now, if you care about your virtual security. We are here to share with you what our malware researchers have found out while testing Sexy Tube Mode in our internal lab.
This ad-supported application is free to use because the creators hope to make a lot of money out of the ads it keeps displaying on your screen. Obviously, they do not get paid for showing you the ads, but only after your clicks on them since that generates traffic to the affiliated websites. So, practically, the more you click, the more money you let these potential schemers make; while you might be scammed out of your money at the same time. Cyber criminals have sophisticated methods to scam people. Have you ever heard of victims of online fraud? It is possible that they started out with a single click on the wrong ad. Since Sexy Tube Mode can collect data about your online activities and compile a profile on you, it is likely that you will be shown ads that actually match your taste or needs. How about that? Do you still think you can resist best offers on products you have been looking for lately? If you want to avoid all the issues that might arise from clicking on unsafe ads, we recommend that you delete Sexy Tube Mode ASAP.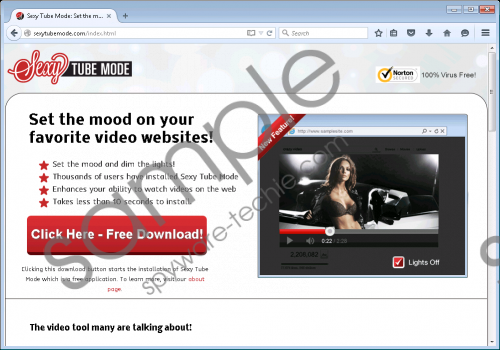 Sexy Tube Mode screenshot
Scroll down for full removal instructions
But how can this application get onto your system? There are at least two possibilities. First of all, you can download it from the official website at sexytubemode.com/index.html. We must warn you though that downloading this adware may already be a red flag situation. It is possible that you do not have an up-to-date antimalware program installed on your system. So, here is what happens when your PC is actually protected: Once you download the installer, the security program signals multiple threats and deletes Sexy Tube Mode right away. Would that make you think that it is a reliable and useful piece of software? Would you like to keep such a threat on your computer? We do not think so. But the chance that you want to download this adware from its official site is quite low, to be frank. Most users would not even find it.
Instead, to make sure that this "gold mine" is spread all over the net, it is mostly promoted in freeware bundles on suspicious freeware hosting websites and torrent sites. When you visit an unfamiliar file-sharing website, chances are you want to download some useful-looking free program, but you click on the wrong button that may be a third-party ad disguised as a download button. That is why we cannot emphasize enough to always do your research before downloading any software and use only trustworthy websites as your source for download. That way you have a choice to avoid all the unpleasant "surprises" that may come in an infected bundle, including more adware apps and browser hijackers. If you want to feel safe, you should delete Sexy Tube Mode and run a full system scan right after that.
Of course, we cannot end our report without good news. We are here to provide you with the solutions as well, not just the ugly bits. Since Sexy Tube Mode has an uninstaller, you can manually remove it via Control Panel, even if you are not an expert. Please use our guide below if you want to take matters into your own hands. What we do not advise you is to go after all the other potential threats unless you are an experienced computer user. For those who would prefer a safe and convenient solution for all the issues generated by malware infections, we suggest that you install a reputable antimalware program. Protecting your computer from similar attacks would be the best choice. Are you ready for peace of mind?
Sexy Tube Mode Removal from Windows
Windows 8/Windows 8.1
Tap Win+X and navigate to Control Panel.
Click Uninstall a program.
Select the unwanted application and click Uninstall.
Windows Vista/Windows 7
Press the Windows button in the bottom-left corner and access Control Panel.
Select Uninstall a program.
Click on the undesirable application and click Uninstall.
Windows XP
Click Start and access Control Panel.
Click Add or Remove Programs.
Select the undesirable application and click Remove.
In non-techie terms:
Sexy Tube Mode is a potentially dangerous adware application that dims your screen while you are watching YouTube videos, but it also disturbs you with annoying third-party advertisements. These ads may hold threat to your system by possibly taking you to unsafe websites. This adware can also enter your computer together with other infections. If you want to restore your system security, you should remove Sexy Tube Mode and all other threats as soon as possible. We advise you to install a powerful malware removal tool that will automatically take care of all your problems.