Do you know what Setupsk is?
Setupsk is an application you probably have never heard about. It is an adware program, and it might be responsible for the many pop-ups and other types of ads you see on your screen when you browse the web. The application must have entered your computer accidentally when you downloaded and installed some freeware program. Whichever it might have been, the thing is that now you have to deal with this adware threat immediately. Remove Setupsk from your computer, and then make sure your system is protected against other unwanted intruders. Your computer's security should be one of your top priorities.
How would it be possible to avoid installing Setupsk? First, you should not download programs from file-sharing websites. Although such pages are not malicious in nature, they do not review the files and programs that get uploaded on their servers. Hence, anyone can upload their installers on such sites. Consequently, users download installer files without giving it a second thought. They seldom realize that these files tend to carry more than just one application. Launching the installer automatically sets up several programs at the same time, especially if users fail to stop and read the additional information on the installation wizard.
Hence, Setupsk might be just one of the many unwanted programs that are running on your computer. What's more, it might be hard to determine that you have this adware app on-board because it does not have an obvious user's interface. Nevertheless, if your computer begins acting strangely, or you see a lot of pop-ups and other types of commercial content, you should definitely scan your computer with the SpyHunter free scanner to see what unwanted programs entered your system. After all, it is a lot faster and more efficient to deal with such threats automatically rather than manually.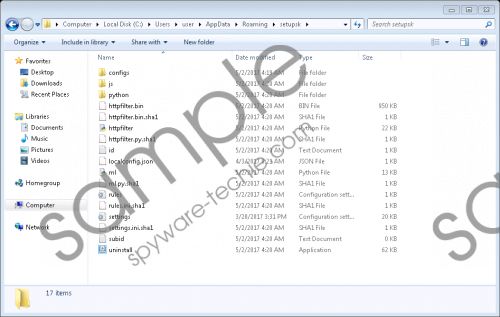 Setupsk screenshot
Scroll down for full removal instructions
Now, what happens when this program enters your computer? It seems that Setupsk takes everything seriously because upon the installation this program creates an auto-run task file, which allows the program to start every single time you turn on your computer. Once your system is on, the program launches python scripts, and this scripting language is rendered unintelligible. So it might be hard to determine what this program does even if you were a computer expert. But if you are an average computer user, you may not know what is going on for a long time.
Setupsk also connects to remote servers via tech-gaming.com, filtrsk6.ru, cur.lv, ad.qqk.tv, remote88.com, and so on. These are the servers where the program gets its commercial content from. What's more, it can redirect your Internet traffic from port 80 to port 24681 and from port 443 to port 24136. It clearly shows that the application intervenes with your web browsing, and it can monitor your online activity for commercial purposes. The main reason the program behaves this way is commercial profit. It needs to inject ads into websites, and that is why you see a lot of pop-ups when you access pages with advertising space.
Our main security concern associated with this application is that Setupsk does not really care whether the content it displays is safe or not. Hence, even cyber criminals could make use of this adware program to spread their malicious links. It does not matter which web browser you use: If this adware program manages to enter your system, you can be sure to encounter multiple pop-ups and commercial offers a lot sooner than you expect. It is important that you refrain from clicking them because you can never know where you will find yourself. Some of the links could actually lead you to sites that distribute malware.
If you remove Setupsk via Control Panel, the program will leave a few leftovers. We will give you a list of these leftover files and directories, and you will be able to delete them manually.
In case you are worried there might be more unwanted programs on-board, you can always remove them using a licensed antispyware tool. This way you would ensure that your computer remains protected against similar intruders. Although please remember that your web browsing habits are just as important when you need to protect your PC from harm.
How to Delete Setupsk
Windows 10 & Windows 8.1
Press Win+R and type Control panel. Click OK.
Go to Uninstall a program and remove the app.
Windows Vista & Windows 7
Open the Start menu and go to Control Panel.
Select Uninstall a program and remove the application.
Windows XP
Press the Start button and select Control Panel.
Open Add or remove programs and uninstall the app.
Delete Leftovers
Press Win+R and type %AppData%. Click OK.
Delete the setupsk folder from the directory.
In non-techie terms:
Setupsk is an annoying application that does not allow you to browse the web properly. The program will connect to remote servers to display a lot of commercial content. This could actually prove to be dangerous, so you should not risk it. Remove Setupsk from your computer immediately, and then do everything you can to safeguard your system against other threats. You can also leave us a comment if you need more information on the matter.