Do you know what Serviciul pentru Intervenţii şi Acţiuni Speciale Virus is?
Cyber criminals have invented a malicious ransomware threat and Serviciul pentru Intervenţii şi Acţiuni Speciale Virus is one of its many versions. The infection is a threat to Windows users in Romania, so there is no question why it is represented through a screen locking alert which is written in Romanian. As you know already, if the disruptive infection has taken over your personal computer and you are pondering its removal, the notification is highly intimidating. Do not pay attention to the Ministerul Afacerilor Interne, Serviciul de Combatere a Criminaltităţiuno Speciale (SIAS), Eurpolo, Interpol, ICSPA and Copyright Alliance credentials. Even though the logos and names attached to the bogus notification seem authentic, in reality the Police have no connection to the removed administrative privileges. Please continue reading to learn more about the scam and Serviciul pentru Intervenţii şi Acţiuni Speciale Virus removal.
The clandestine, screen-locking notification is meant to push you into believing that illegal activity has been performed from your own operating Windows system. The accusations listed within the fake alert span from child pornography distribution to spyware proliferation. Whether you have performed this illegal activity or not, it is completely unnecessary to pay attention to such bogus statements:
ATTENŢIE!
Calculatorul Dvs este blocat din motivele de securitate specificate mai jos.
Dvs sunteţi acuzat(ă) de vizualizare/stocare şi/sau distribuire a materialelor pornografice cu conţinut […] Amenda urmează să fie achitată ĭn decurs de cel mult 48 de ore din momentul săvârşirii infracţiunilor. […]
Valoarea amenzii este de RON 300 lei româneşti.
If you have faced Politia Romana Virus, a different version of the so-called Ukash Virus, you must know that the accusations are completely fictitious and that by paying the fine you will not achieve anything. Such recently reported threats as Police Judiciaire Fédérale Virus and Nemzeti Védelmi Szolgálat Virus have proven us that in order to restore Windows functionality it is necessary to remove running infections. In the case of these clandestine ransomware you need to find and delete Urausy Trojan. This is the threat that controls the lock-down and threatens your virtual security. Please follow the instructions below to unlock the system and delete Serviciul pentru Intervenţii şi Acţiuni Speciale Virus.
How to remove ransomware?
Remove from Windows 8:
Turn on the computer and access the Metro UI start screen (tap Windows key).
Launch a browser and visit http://www.spyware-techie.com/download-sph .
Download the automatic spyware discovery and removal tool onto the computer.
Install the reliable application and allow it to scan the PC and delete found infections.
Remove from Windows Vista/Windows 7:
Restart the computer and wait for BIOS to load.
As soon as the screen disappears start tapping the F8 key.
Select Safe Mode with Networking using arrow keys and tap Enter.
Download an automatic malware remover SpyHunter.
Install the tool without further hesitations and it will delete existing threats in no time.
Remove from Windows XP:
Restart the PC, wait for BIOS screen to disappear and immediately start tapping F8.
Use arrow keys to select Safe Mode with Networking and tap Enter.
Click YES once the safe mode alert shows up.
Open the Start menu and click RUN.
Enter msconfig into the Open box and click OK.
Click the Startup tab in the opened utility and select Disable All. Click OK.
Download SpyHunter from http://www.spyware-techie.com/download-sph .
Restart the PC, install the tool and remove system controlling malware.
In non-techie terms: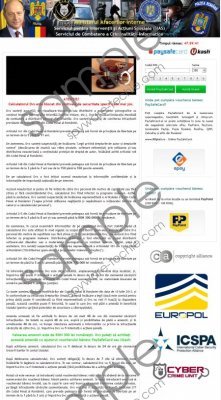 Serviciul pentru Intervenţii şi Acţiuni Speciale Virus screenshot
Scroll down for full removal instructions
If you wish to restore access to the computer and ensure that your operating Windows system is safe to use again, you need to remove Serviciul pentru Intervenţii şi Acţiuni Speciale Virus as soon as possible. We strongly recommend that you install authentic spyware detection and removal software to exterminate the infection because it could be extremely difficult to remove the rootkit Urausy Trojan running on the PC manually.
Aliases: Serviciul Speciale Virus.