Do you know what Sequre Ransomware is?
Sequre Ransomware is a new version of the Cryptconsole Ransomware. This infection was first discovered in April 2018, and it seems to be making rounds on the Internet ever since. It is one of the lesser known infections that can seriously impede using not only individual computers but also computer networks.
In this description, we will discuss how this application works, and what you should do to remove Sequre Ransomware from your computer. However, please bear in mind that it may not be possible decrypt the files affected by this infection, so you should be prepared to start building your database anew.
The original filename of the installer file that installs Sequre Ransomware on your computer is smsss.exe. If you happen to receive such file through an email message or through an instant message via a Remote Desktop Protocol, the chances are that someone is trying to infect you with ransomware. Of course, if you do not follow ransomware and computer security news, there is barely any way for you to know what certain files might entail. On the other hand, there is a list of things you might want to think about if you want to ensure your system's safety.
For example, it is not that hard to avoid getting infected with Sequre Ransomware. As long as you know how ransomware programs get delivered around, you should be able to thwart the infection. Thus, it is necessary to understand that the main ransomware distribution methods these days are spam email messages and corrupted Remote Desktop Protocol connections. It also shows that the infection might take place anonymously or directly. Now, what do we mean by that? Let's take a closer look at both distribution methods, shall we?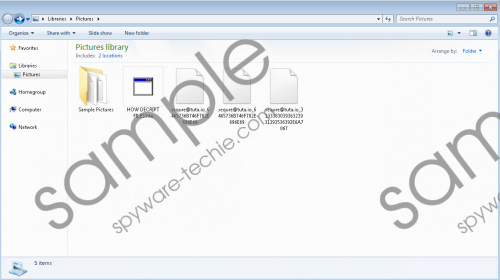 Sequre Ransomware screenshot
Scroll down for full removal instructions
You are definitely familiar with spam email because we receive hundreds of such messages every single day. For the most part, spam email messages get filtered into the Junk folder, and you never need to deal with them. On the other hand, depending on your email provider, some spam messages may manage to get into your main inbox, and the main problem here is that those spam messages often look like professional emails from shipping companies, banks, financial corporations, online stores, and so on. In other words, users might feel compelled to open the message and download the attached file, thinking that it contains important information. Needless to say, the moment you open the download file, you get infected with Sequre Ransomware.
When the malicious file comes through a remote desktop connection, it is very likely that it gets sent out from an already compromised system. Also, it is very likely that the beginning of the chain is more individual, and the criminals behind a ransomware infection might intentionally target a specific computer system network, as opposed to attacking anyone blindly through a spam email campaign. Whichever it might be, the bottom line is that users have to remain attentive if they don't want their systems crippled by Sequre Ransomware.
And this ransomware program is very good at causing panic. When it enters the target system, it encrypts files in directories all over the victim's computer. Unlike most of the ransomware programs, Sequre Ransomware does not skip the %WinDir% directory. It means that it encrypts the system files as well, and if you were to restart your computer after the encryption, the Windows may not load again because the system would not be able to read important files.
Like all the other ransomware programs out there, Sequre Ransomware requires the infected user to pay a ransom fee (0.14 BTC) for the decryption key. But here we would like to point out that paying the ransom does not guarantee your files will be restored. Our research team says that the best way to restore your files is to remove Sequre Ransomware, delete the encrypted data, and then transfer healthy copies of your files into your hard drive from an external disk. Of course, not everyone backs up their data, so (as mentioned previously) there is a chance that it may not be possible to recover some of your files.
Please do not hesitate to address a professional technician in search of ways to restore your data. There might always be a method you could apply. But you should also consider protecting your computer from similar threats in the future.
How to Delete Sequre Ransomware
Open your Downloads folder.
Remove the most recently downloaded files.
Go to your Desktop.
Delete the most recently downloaded files.
Locate and remove the HOW DECRIPT FILES.hta files from encrypted directories.
Scan your computer with SpyHunter.
In non-techie terms:
Sequre Ransomware may not look like much of a computer security threat at first glance, but it is a dangerous ransomware infection that will not allow you to operate your computers unless you pay a designated ransomware fee (or so it says). Of course, you should never pay a single cent to these criminals. You need to focus on removing Sequre Ransomware from your computer, and if you cannot do it on your own, you can always refer to a professional for help. Please do everything you can to get rid of this infection.