Do you know what Seen On Screen is?
Seen On Screen is an extension that is currently compatible only with Google Chrome. In the recent past, this extension was also compatible with Mozilla Firefox; however, if you visit seen-on-screen.thewhizmarketing.com (the official download page) using this browser, you are greeted with a notification. This notification reads: Sorry, this product is currently only available for Google Chrome. Just in case this suspicious extension reappears on Firefox, we have added removal instructions that will help you delete Seen On Screen from both browsers. Of course, if you find it installed onto other browsers, you should start a discussion below, and we will provide you with the instructions that you need. For now, we suggest reading this report to learn what we found after analyzing this extension in our internal Spyware-Techie.com lab.
Seen-on-screen.thewhizmarketing.com is not the only source of the suspicious Seen On Screen. We found that it is also promoted via the Chrome web store at chrome.google.com/webstore/detail/seen-on-screen/bbhleiekcbdhhmhpodmcnmipiodipifd. According to this page, the latest version of this extension, 19.13, was last updated on the 1st of March. Of course, this data could be modified by the time you are reading this report. What does not change is the fact that this extension introduces a suspicious search tool, search.mysearch.com. Just like Muzik Fury – which is a similar add-on – Seen On Screen does not inform users about this strange search provider which is represented via the Chrome homepage. Although this extension does not change the homepage settings, it reconfigures Chrome to launch New Tab on startup. Due to this, instead of calling it a hijacker, we call it a potentially unwanted program (PUP). Needless to say, the introduction of this suspicious tool is one of the main reasons why computer users remove this program. After all, http://search.mysearch.com/ shows sponsored search results, and you cannot really trust it.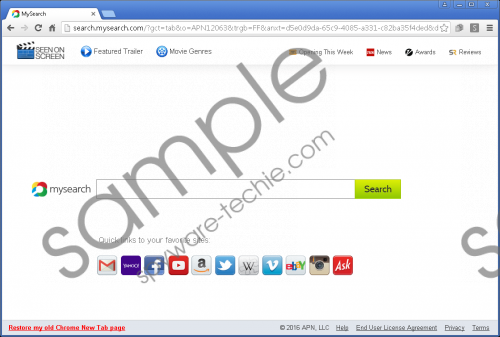 Seen On Screen screenshot
Scroll down for full removal instructions
According to our research team, some users might find Seen On Screen advertised via pop-ups displayed on unreliable sites. Furthermore, it was found that it could be bundled with other programs as well. Whether or not these programs are trustworthy depends on the installer; however, it is very possible that it will be spread bundled with malware, which, of course, is terrible news. Unfortunately, some users do not care about this as long as the suspicious PUP provides links to such movie-related sites as rottentomatoes.com, variety.com, or hollywoodreporter.com. It was found that this program is most popular in India, where 15% of all of its users are, but it is also popular in Pakistan, Egypt, the US, and other countries all around the world. All in all, regardless of where you live, if do not want to be exposed to a suspicious search tool every time you launch your browser, you should remove this PUP.
If you remove Seen On Screen directly from the Chrome and Firefox browsers, you will not need to deal with any leftovers. Needless to say, this is the easiest way to get rid of this potentially unwanted program. Well, we propose another manual removal method, which you can see below. This method allows you to learn more about the structure of this PUP. Of course, if you have found this program installed along with malware or other potentially unwanted programs, it is best to use a legitimate malware remover. If the malicious infections active on your PC have made it impossible to install software – which might happen in extreme cases – you might have use for the guide at the bottom of the page. This guide shows how to reboot your PC into Safe Mode with Networking. Hopefully, you will not need to resort to this method, and the instructions below will be enough to clean your PC.
Delete Seen On Screen
Google Chrome:
Launch Explorer (tap Win+E at the same time).
Enter %UserProfile%\Local Settings\Application Data\Google\Chrome\User Data\ into the address bar.
Right-click and Delete these files:

chrome-extension_bbhleiekcbdhhmhpodmcnmipiodipifd_0.localstorage
chrome-extension_bbhleiekcbdhhmhpodmcnmipiodipifd_0.localstorage-journal

Open the Default folder or *profile name* folder.
Open the Extensions folder and Delete the folder called "bbhleiekcbdhhmhpodmcnmipiodipifd."
Also Delete these files: Preferences and Secure Preferences.
Mozilla Firefox:
Launch Explorer (tap Win+E at the same time).
Enter %AppData%\Mozilla\Firefox\Profiles into the address bar.
Open the *.default* (unique profile name) folder and then open the Extensions folder.
Right-click and Delete the file called "MOV-PNP@iacsearchandmedia.com.xpi".
Go back to the *.default* (unique profile name) folder.
Open the pref.js file using Notepad.
Replace the strings representing search.mysearch.com with the URLs of the preferred search tools.
In non-techie terms:
Even if you find the links provided by Seen On Screen to be useful, we recommend deleting this potentially unwanted program from your operating system. This PUP presents a suspicious search provider that, as it was discovered, can show sponsored links. This means that if you use this search tool, it is likely that you will end up interacting with advertisements instead of links that would lead you to useful sites. If you wish to eliminate this PUP from your operating system as soon as possible, you can do so by eliminating the unwanted extension. The method we have proposed is a little more complicated, but it might teach you a thing or two.