Do you know what Seek123.net is?
There is nothing wrong with trying to enhance the way you surf the web, but you have to be cautious about the tools you use. Seek123.net is the focus of this report because it is classified as a browser hijacker. Have you set this page as your new homepage on Chrome, Firefox, or Internet Explorer web browser? If you have, you must realize by now that this is not the search tool you should continue using; otherwise, you would not have found this report. Are you researching this tool because it was offered to you via a software bundle? If you have not installed it yet, don't. In this report you will find information revealing how the hijacker works and how it could be used to the advantage of third parties. We also discuss how to delete Seek123.net because we believe that that is very important.
Seek123.net does not spread on its own, and its installer should be attached to others forming a software bundle. Is this how the hijacker entered your operating system? If so, you need to scan your vulnerable operating system immediately. Unfortunately, it is possible that some (maybe all) programs bundled together with the hijacker are malicious or, at least, unreliable and unpredictable, just like the hijacker itself. What if you screened all programs before installing them and you are sure that they are genuine and reliable? Malware is often disguised as useful programs. Moreover, it can be installed without any notice. Due to this, we believe that scanning your PC is crucial. In the best case scenario, the scanner will only detect Seek123.net, and we can show you how to remove this infection. If you face other threats, use the reports on our website to figure out how to eliminate them. Note that the clones of the hijacker (e.g., Searchfar.net and Gotsearch.co.uk) might come bundled with malware as well.
So, what is the deal with Seek123.net? At first sight, this search tool looks harmless. Unfortunately, that is not the case. The first thing our research team did was analyze the Privacy Policy supporting this odd search tool. What we found was that this hijacker can showcase third-party advertisements and that it can record information – which might include personally identifiable information – at the same time. Our guess is that the tool can be implemented by third-party advertisers to showcase their offers, and we cannot guarantee that these parties are reliable. Even if you do not look this deep, Seek123.net does not look great on the surface either. First of all, the search tool does not find any results in most cases. When it does, it takes the results from Bing Search and adds sponsored links. Clearly, it cannot be trusted. On top of that, the suspicious "Make Homepage," "Search Plugin,""Bookmark," and "Add Search to Your Site" tools do not work well either. Overall, there are no reasons to stick with this hijacker.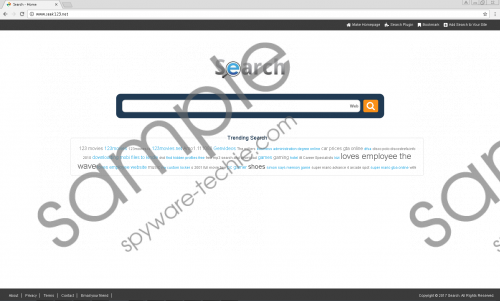 Seek123.net screenshot
Scroll down for full removal instructions
The removal of Seek123.net is not something that will take a lot of your time. In fact, it is most likely that you can get rid of this infection by modifying the homepage URL, which you can learn how to do using the guide below. Of course, if a malware scanner has found other infections, you might have to eliminate them first, or you might have to download automated malware removal software to get rid of it for you. If you choose to use anti-malware software, the hijacker will be erased along with all threats.
Delete Seek123.net from browsers
Mozilla Firefox
Launch Firefox and tap Alt+T.
Select Options.
In the menu on the left click General.
Overwrite the hijacker's URL.
Restart the browser.
Internet Explorer
Launch IE and tap keys Alt+T.
Select Internet options.
Click the General tab.
Overwrite the URL under Home Page.
Click OK and then restart the browser.
Google Chrome
Launch Chrome and tap Alt+F.
Select Settings.
Move to the On Startup menu.
Mark Open a specific page or set of pages.
Click Set pages and overwrite the hijacker's URL.
Click OK and then restart the browser.
In non-techie terms:
If you glance at Seek123.net, you might think that it is a normal search tool. However, in reality, it is a suspicious browser hijacker that can record private information and showcase ads. Most important, this hijacker does not offer reliable or useful search services, and this might be the only reason why you installed it in the first place. If you trust our advice to delete this hijacker, you should scan your PC first to check if other threats exist. If they do, consider using automated anti-malware software. If other infections do not exist, check out the guide above. Note that if you choose the manual removal option, you should always scan your PC afterward to make sure that everything is back to normal.