Do you know what Secury-surf.com is?
Secury-surf.com is a browser hijacker which travels bundled with the Secury-surf Toolbar. Both the application and the suspicious search tool are presented in French, and this narrows the target. In fact, the toolbar is promoted on French websites, such as info-programme-tv.fr, les-pages.info and meteo-de-france.info, and so it is unlikely that those who do not understand the language would acquire it. All in all, we recommend that you delete Secury-surf.com because this is not the greatest web search tool you could use. Furthermore, it could have taken over your Mozilla Firefox, Google Chrome and Internet Explorer browsers illegally, without any of your authorization.
LaCrm Conseil is the developer of the toolbar and the suspicious search tool. If during the installation of the browser extension you do not notice that additional search tools are offered as well, you may be surprised the next time you launch a browser. Secury-surf.com offers its users to browse the web using such search tools as Web, Image, Video and Actualite. As our virtual security researchers have discovered, the presented search results may enable online advertisements. Have you discovered advertisement supported links or sponsored search results? These may belong to the unknown affiliates of the LaCrm Conseil. We advise ignoring the displayed ads because they may be unreliable. In fact, you should remove Secury-surf.com because this search tool could be used to track your virtual activity as well. Due to this, some of the displayed ads could be presented accordingly to your interests. Unfortunately, this does not mean that the presented offers would be beneficial or reliable.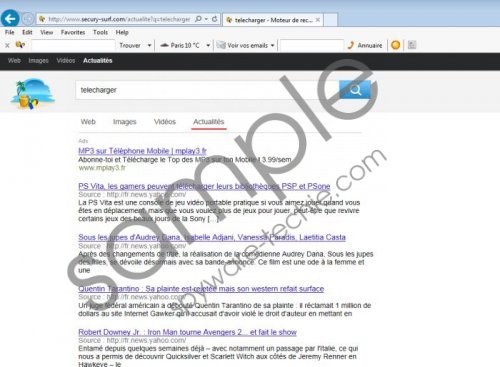 Secury-surf.com screenshot
Scroll down for full removal instructions
Needless to say, Secury-surf.com is not a search tool you should trust. Even if it does present authentic search results, it can also display sponsored links which may route you to various suspicious sites and present potentially unreliable products or services. Even though you can delete Secury-surf Toolbar using automatic malware removal software which we recommend using for reliable Windows protection, you will need to remove Secury-surf.com hijacker manually. Use the guides below to delete undesirable search tools and replace them with more beneficial and trustworthy software.
Delete Secury-surf Toolbar
Delete from Windows XP:
Open the Start menu from the Task Bar at the bottom of the screen.
Select Control Panel and double-click Add or Remove Programs.
Remove the application you no longer wish to run on the PC.
Delete from Windows Vista & Windows 7:
Move to the Task Bar below and open the Start menu.
Select Control Panel and move to Uninstall a program.
Right-click the application you wish to remove and select Uninstall.
Delete from Windows 8:
Access the Metro UI menu and right-click on the background.
Select All apps, open the Control Panel and click Uninstall a program.
Right-click the program you want to remove and select Uninstall.
Remove Secury-surf.com
Remove from Internet Explorer:
Open IE and simultaneously tap Alt+T.
In the Tools menu click Manage Add-ons.
Go to Toolbars and Extensions.
Disable the undesirable browser plugin.
Now go to Search Providers.
Add a new default search provider.
Remove the undesirable provider and click Close.
Tap Alt+T again and select Internet Options.
Click the General tab and move to Home Page.
Overwrite/delete the displayed URL and click OK.
Remove from Google Chrome:
Launch the browser and simultaneously tap Alt+F.
Select Settings and navigate to On Startup.
Mark Open a specific page or set of pages and click Set pages.
Overwrite/delete the undesirable URL and click OK.
Under Appearance mark Show Home button.
Click Change and then repeat step 4.
Under Search and click Manage search engines.
Select a new search provider and click Make Default.
Remove (click X) the undesirable tool and select Done.
Tap Alt+F again, move to Tools and click Extensions.
Click the trash icon and select Remove to get rid of the undesirable toolbar.
Remove from Mozilla Firefox:
Launch Firefox and simultaneously tap Alt+T.
Select Options and click the General tab.
Overwrite/delete the Home Page URL and click OK.
Move to the Firefox search box on the top right.
Click the search provider icon.
Now select Manage Search Engines.
Remove the undesirable tool and click OK.
Simultaneously tap Ctrl+Shift+A (Add-ons Manager).
Remove the undesirable browser Extension.
In non-techie terms:
Most computer users should delete Secury-surf.com because this search tool may be installed onto the browsers illegally, as a browser hijacker. In order to eliminate the potential threat from the PC we advise installing automatic malware removal software first and then using the manual removal instructions which are presented above. Do not hesitate to ask questions about the removal process, and you can do this using the comment box below.