Do you know what Security Cleaner Pro is?
There is no doubt that Security Cleaner Pro is a malicious computer infection which has been developed by the mischievous cyber criminals. The devious program does have an interface; however, this does not help the immediate recognition of a malicious rogue. Do you know why this is so? Apparently the interface of the fake AV resembles the interface of an authentic malware detection and removal tool. Needless to say, schemers have created the rogue to convince you that you can trust it. Only this way schemers will be able to convince that you need to purchase the full version of a completely worthless tool which has no technical potential to safeguard your PC or remove real computer threats. We strongly recommend that you delete Security Cleaner Pro from the operating Windows system, and you can learn how if you continue reading the presented report.
Our researchers have disclosed that Security Cleaner Pro is the latest addition to the infamous WinWebSec family of clandestine rogue anti-spyware programs. Some of the infections which belong to this family as well include Sinergia Cleaner, Antivirus Security Pro and Attentive Antivirus. It has been discovered that whilst these threats use different interfaces they all can initiate the same exact symptoms. For example, if the rogue enters your computer it is unlikely that you will be able to connect to the Internet, run most executable files or access such Windows utilities as Registry Editor and Task Manager. This is exceptionally detrimental because these are the tools which you will want to use when dealing with Security Cleaner Pro removal.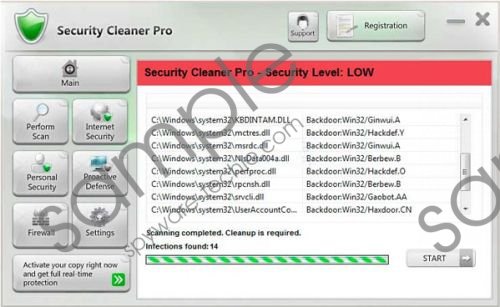 Security Cleaner Pro screenshot
Scroll down for full removal instructions
Even though you may recognize that your PC has been paralyzed by Security Cleaner Pro, what you should be most suspicious about are the reappearing notifications and the computer scanner. None of these should be taken seriously because they are meant to push you into thinking that your PC is infected with dangerous malware. As you probably understand already, the main infection which you need to delete from the system is the rogue Security Cleaner Pro itself. Needless to say, you firstly need to get over the fact that all symptoms corrupting the computer have been initiated by some malignant program and not the allegedly running threats. Please see an example of a fictitious pop-up notification:
Security Cleaner Pro (UNREGISTERED)
Infected process 'md.exe' trying to infect your files.
You should delete Security Cleaner Pro from the operating Windows system as soon as you possibly can. The rogue is extremely clandestine and may expose your system's vulnerabilities to other great virtual security risks. Unfortunately, the devious rogue is extremely complicated and so even experienced Windows users who know how to delete malware, should be extra cautious with Security Cleaner Pro removal. Those who have less removal experience should install automatic malware detection and removal software onto their computers. We recommend SpyHunter; however, before you install this program onto the PC we recommend activating a special code which will eliminate all existing symptoms. This will allow you to install the reliable, automatic malware remover without any obstacles.
Activation code:
YKGVWHVSFETPXBIMDXUJSUYGPRADAOHZ
In non-techie terms:
Security Cleaner Pro is a rogue anti-spyware and we recommend that you delete it from the operating Windows system without further hesitations. If you purchase the full-version of this fictitious tool, there is no doubt that your Windows system will remain vulnerable to devious computer infections which you will need to remove on your own. We recommend that you delete the infection using the automatic malware removal tool SpyHunter.
Aliases: SecurityCleanerPro.