Do you know what SecuriDex is?
Usually, potentially unwanted programs refer to programs that are, in general, useless, but some of them can display fake warnings. SecuriDex is one such program, and we recommend that you remove because its main purpose is to show you fictitious warnings about malware and offer you to call a certain tech support number. Our researchers think that this so-called media player is actually a scam program whose purpose is to extort money from you. Furthermore, currently this application's C&C server does not work, so it does not display the fake warnings, but this can change at any time, so keep that in mind.
You may be given the impression that SecuriDex is an entirely legitimate application similar to VLC Media Player. Its minimalistic Windows 95-ish design is reminiscent of the time when function — not aesthetics was valued the most. However, we believe that this program's developers were just too lazy to think of a good design or better copy one from another media player, but it is what it is. In any case, our researchers tried to get information about this media player's developers but all they have managed to find out that it was developed by a company called SecuriDex LLC. This company may be legitimate, but its application is certainly not.
It seems that SecuriDex is this company's only product, but more may soon follow. This program's website says that "SecuriDex.com is one among most popular security solution allowing you to enjoy your freedom with internet and digital portability" which is very confusing because this statement gives the impression that it develops online security software. This is not the case of course because we know that the company has released only one program.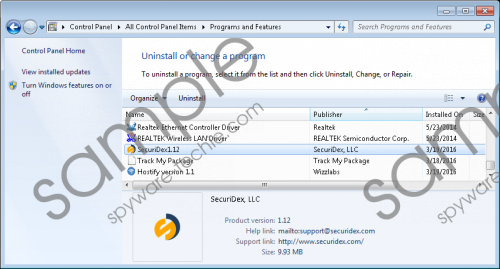 SecuriDex screenshot
Scroll down for full removal instructions
Regarding this program's distribution methods, our security analysts have found that you can download this media player from its dedicated website and a third-party website at Software.informer.com. We have yet to receive information about this program being bundled with other software. Therefore, it is safe to say that the only way you can get it is by installing it intentionally, so this program's distribution methods are entirely legitimate.
However, SecuriDex's functionality is an entirely different story. Our researchers have categorized this program as potentially unwanted because it is not malicious and does not cause damage to your system or promote other malicious content, but it preys on gullible users who believe what they see. Our researchers say that this application can display fictitious warnings about malware being present on your computer and that you have to call a certain phone number to get in touch with tech support. We do not know how there fake malware warnings look like or how they are presented because as of late this program's server is down, so the program does not display any warnings. However, if it did work, then you would be presented with an offer to call tech support, and if you did, then you could get scammed, or the people on the other end of the line would encourage you to purchase a fake anti-malware program that does not work at all.
As far as this program's official functionality is concerned, our researchers have found that it can be used like any other media player, but SecuriDex is a low-grade media player so do not expect it to play all video formats you throw at it. According to its website, this player supports all AV files formats, but that is probably not the case. All things considered, SecuriDex is an undesirable program, and we recommend that you uninstall it.
In summary, this media player has the ability to play some video file formats, but its main purpose is to subject you to fictitious malware warnings that offer you to call tech support that may try to extort money from you or offer some kind of non-functional program. It is ironic that SecuriDex's website claims that it is 100 % secure and that it is definitely not malware or spyware and does not display ads. Well, whenever you statements like that, you know that that program is no good. Therefore, we have provided you with a guide on how to remove this media player.
How to remove this undesirable program
Windows XP
Open the Start menu and select Control Panel.
Click Add or Remove Programs.
Locate the PUP in the program list.
Click Remove.
Windows Vista & 7
Click the Start menu button and open Control Panel.
Click Programs and open Programs and Features.
Locate the application and click the Uninstall button.
Windows 8 & 8.1
Open the Charm bar and click Settings.
Select Control Panel.
Click Uninstall a program.
Locate the program in the program list.
Right-click on it and click Uninstall.
Windows 10
Right-click on the Windows Start menu logo.
Select Programs and Features.
Locate the undesirable application and right-click on it.
Click the Uninstall button.
In non-techie terms:
SecuriDex is an unreliable program that our researchers have classified as a potentially unwanted program due to its ability to show you fake messages about your computer being under threat from malware and that you need to call a particular number to get in touch with tech support. We regard this as an attempt to scam users, so we advise that you delete this program as soon as you can.