Do you know what Securefindersearch.com is?
If you notice Securefindersearch.com in your browsers, including Internet Explorer, Google Chrome, and Mozilla Firefox, it is quite likely that your system has been infiltrated by a browser hijacker. When this happens, you may have clicked on the wrong content to end up with a potentially harmful search engine in your browsers. No matter how harmless or authentic this search page may seem to be, you should know that you cannot trust anything provided by this hijacker. This infection may spy on you and use the gathered data to send manipulated search results to your screen. This is why it could be risky to click on anything offered by this hijacker. In fact, if you find this infection in your browsers, it could also mean that other malware programs have slithered onto your system along with this potential threat source. Our researchers suggest that you remove Securefindersearch.com before it is too late and you cause some serious system security issues by keeping such an infection operating on your computer. As for the rest of the potential threats, we recommend the same.
It is easier to get infected with browser hijackers like this than you would think. One single click could be enough. This is why you should become more cautious about your clicks because choosing the wrong content could infect your computer or you may end up on malicious websites after a redirection. The most common way to install Securefindersearch.com in your browsers, which might also happen without your noticing it, is by clicking on third-party ads, including pop-up advertisements, shown by adware programs that could be on your system already. Having such "uninvited guests" on board can cause you a number of issues apart from being bombarded by annoying advertisements while you are trying to browse the web. Such ad-supported programs can also use authentic third-party ads and hijack them to reroute to malicious websites. Therefore, if you have such infections on your system, you can never be safe while going online. Another bad bit of news about such malware is that by clicking on unsafe ads you can easily infect your computer with bundled malicious threats. This is how several adware programs, browser hijackers, fake warnings, and potentially unwanted programs can appear in one go. The only safe solution in this case is to delete Securefindersearch.com and scan your system for other potential threats.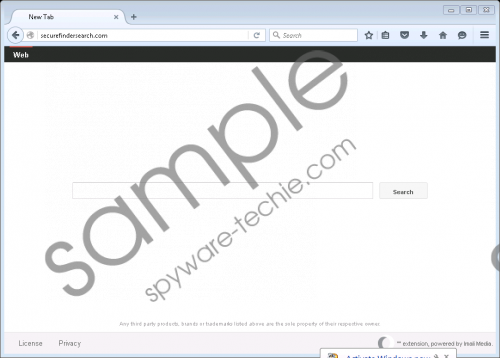 Securefindersearch.com screenshot
Scroll down for full removal instructions
It is also possible that you are introduced to malicious ads when you land on questionable websites, including gaming, dating, torrent, and shareware pages. These are usually filled with a number of unsafe third-party commercials. These ads are often disguised and pretend to be something else; therefore, if you are not familiar with the page you are viewing, you can easily click on a fake next-page or download button. This can however drop a package of malicious threats onto your system. Once again we need to emphasize the importance of scanning your system with a reliable malware scanner after you remove Securefindersearch.com because leaving anything suspicious on board could cause further virtual security issues and you will never be fully safe after you switch on your PC.
This search page is very simple. Right now you can only find a search box in the middle of the page. However, there is a note at the bottom of the page written with tiny letters that says: "Any third party products, brands or trademarks listed above are the sole property of their respective owner." This could refer to a third-party ad that cannot be seen now on this main page. Such ads are usually placed below the search box and could be risky to click on. But this note may also refer to the search results that show up after you send your keywords to this hijacker. Your keywords are redirected to plusnetwork.com this time; although, previously, Yahoo was used to display your results. In fact, it does not really matter because what really counts is the fact that this hijacker may modify the search results in order to promote affiliates. Unfortunately, not all of the third parties represented by this search engine may be reliable. This means that you could be introduced to unsafe advertisements and links on the results pages. If you engage with such content, you could be taken to websites operated by cyber criminals. Giving up your credit card details and infecting your computer are only two of the possible scenarios you might experience on such pages. Therefore, we suggest that you delete Securefindersearch.com right away.
Luckily, it should not take too long to get rid of this useless browser hijacker. All you need to do is reset your browsers to start anew. You can use our guide below as a reference if you have never done this before. If you want to defend your computer from further attacks, you should be more careful about what websites you visit and which ads you click on. Also, it pays to keep all your software and drivers regularly updated. Nevertheless, the best way to protect your PC is to find a decent malware removal application and install it. Keep this security tool always activated and updated for best results.
Remove Securefindersearch.com from browsers
Google Chrome
Tap Alt+F and go to Settings.
Scroll down and click Show advanced settings.
Scroll down and click Reset settings.
Press Reset.
Restart your browser.
Mozilla Firefox
Tap Alt+H and go to Troubleshooting Information.
Press Refresh Firefox.
In the confirmation window, press Refresh Firefox again.
Click Finish.
Restart your browser.
Internet Explorer
Tap Alt+T and go to Internet Options.
Select the Advanced tab and press Reset.
Tick Delete personal settings and click Reset.
Click Close.
Restart your browser.
In non-techie terms:
Securefindersearch.com is a potentially risky search engine that can appear in your major browsers after you get infected with a browser hijacker. This search page may look like a normal search engine at first but you should be aware that this hijacker may introduce you to unreliable contents through its search results. It is one thing that this infection redirects your searches to a third-party search engine, and another that it may alter the results by inserting potentially harmful ads and sponsored links. Apart from exposing you potentially to unsafe content, this browser hijacker may also come on board bringing along a couple of other malicious threats and potentially unwanted programs. This is why we believe that you should remove Securefindersearch.com right away and detect all other related threats as well. We recommend that you use a professional anti-malware program to secure your computer.