Do you know what SecureDocumentsViewer is?
If your online shopping experience is disrupted by annoying coupon and best offer type ads, it is possible that SecureDocumentsViewer has found its way to your computer. This adware mainly travels bundled with other malware infections, so, if it is present on your system, it is quite likely it is not the only threat challenging your operating system right now. According to our researchers, you should remove SecureDocumentsViewer as soon as you find it on your computer. Its presence is quite obvious because of the third-party ads in your browsers. You can easily check if you have been infected with this worthless adware if you go to your browser settings and look at the extensions list. You can also have a look at the installed programs list in Control Panel. Either way, this adware cannot hide from you. If you want to learn more about this threat and the potential risks it may hold for you and your computer, please continue reading our report.
Our researchers have found that this adware is practically identical to PursePerks among others. One of the main characteristics they seem to share is that they do not have a working official webpage let alone a whole website. Previously, however, there was a site promoting this adware at securedocumentsveiwer.com, but this page has been down for some time now. It seems that if you find
SecureDocumentsViewer on your PC, it may have come in a free software bundle. Have you visited unfamiliar file-sharing websites lately? You need to know that these questionable sites and the ones associated with online piracy are mainly responsible for spreading malware infections all over the web.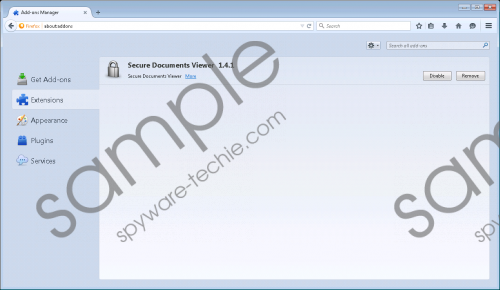 SecureDocumentsViewer screenshot
Scroll down for full removal instructions
If you download a bundle that contains a number of malicious software installers, you can easily infect your machine and cause multiple security risks that might lead to chaos and a crippled operating system with time. Therefore, you need to be very careful when installing any software package. Make sure that you are aware of all the components you are about to install. Usually, there is a step in the installation wizard where you can still say no to certain elements of the bundle. If you fail to do so, you will have to remove SecureDocumentsViewer and right afterwards run a full system scan to identify all other threats as well.
This adware may gather data about your browsing habits and use it for displaying targeted third-party ads for you. It means that, for instance, you may see ads and best offers that match your taste or interest. These ads can be very misleading and, unfortunately, cyber criminals may use them to lure you onto their infected websites where you might get scammed in all kinds of ways. It is possible that you will "only" be fooled to download some useless but rather infectious fake driver, for example, disguised as an Adobe Flash driver. But that is just the most "innocent" way to be scammed. We believe that you do not want to find yourself on a fake online store where you might disclose your banking details to criminals. If you would like to avoid all these scenarios, you should definitely delete SecureDocumentsViewer right away.
According to our researchers, although this adware has a working uninstaller and the application can be removed through Control Panel, it leaves the extensions in Mozilla Firefox and Google Chrome as well. Those, you need to take care of manually. You can use our guide below if you have no idea how to do it properly. The protection of your computer is very important. If you do not want to fight endless battles with malware infections, we suggest that you download and install a decent malware removal tool, such as SpyHunter, in order to safeguard your machine.
SecureDocumentsViewer Removal from Windows
Windows XP
Click the Start button and go to Control Panel.
Select Add or Remove Programs.
Click on the application and press Remove.
Windows Vista and Windows 7
Tap Win+R and enter control panel. Click OK.
Access Control Panel.
Open Uninstall a program.
Click on the application and press Uninstall.
Windows 8, Windows 8.1, and Windows 10
Tap Win+X and pick Programs and Features.
Click on the application and press Uninstall.
SecureDocumentsViewer Removal from browsers
Google Chrome
Tap Alt+F and go to Settings.
Select Extensions.
Select the extension and click on the Trash icon.
In the pop-up, click Remove.
Mozilla Firefox
Tap Alt+T and go to Add-ons.
Choose Extensions.
Select the extension and press Remove.
In non-techie terms:
SecureDocumentsViewer is a useless adware application that may pose a threat to your system security. It may show questionable third-party ads on your computer screen. Clicking on these may result in landing on malicious websites, which can further infect your computer or you might even get scammed other ways. It is also likely that this adware arrived together with other malware programs; therefore, you may be facing a multiple security threat. We recommend that you use a professional antimalware program to remove SecureDocumentsViewer and all other existing threats.