Do you know what Securebit Technologies Free Antivirus is?
Securebit Technologies Free Antivirus is a computer threat which you can install as Free Antivirus 1.0. It is a rogue security tool which, unlike other fake anti-virus software, has a digital signature. According to the signer information, the application is developed by Secure Bit Technologies Pvt. Ltd. The company was founded in 2012 and registered in New Delhi. It is presented as a leading provider of Internet security tools; however, the application in question does not seem to help users protect their computers against various computer threats.
It has been found that Securebit Technologies Free Antivirus may delete files under C:\Documents and settings\%username%\Local Settings\Temporary Internet Files\, C:\Windows\Temp and so on. Moreover, it may create some unwanted files.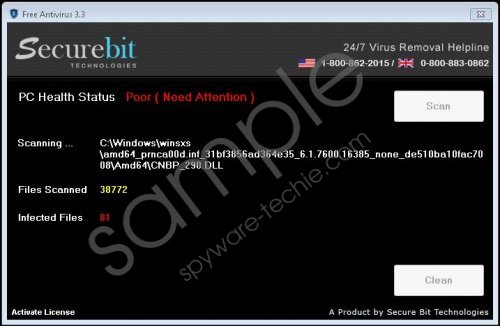 Securebit Technologies Free Antivirus screenshot
Scroll down for full removal instructions
Securebit Technologies Free Antivirus is allegedly believed to have been created to direct users to the tech support so that the potential customers can be offered to purchase a program which unlocks the paralyzed computer. When Securebit Technologies Free Antivirus is installed, the user is bombarded with warnings according to which he or she should either register the program or call the toll-free number:
If you do not have license code, contact support

Warning: Unable to clean all files
Contact customer service for complete cleaning.
USA / Canada Toll Free : 1-800-862-2015

Infected files have been detected on your PC.
359 Infected files found.
It is recommended that you run a full scan and clean your PC.
For Support Call 1-800-862-2015 (Toll Free Us / Canada)
You will also encounter a warning containing the Windows logo and the following statements:
When working in Windows, you may receive the following error
Windows has stopped working. Windows is restarting.
Additionally, you may notice the screen flicker just before or after the error message appears. […]
If the problem persist, contact support center. Toll Free 1 (800) 862 2015
In addition to the fraudulent warnings, it is important to note the threats reported are only the files located in different directories. Hence instead of thinking how to get rid of the non-existent threat you should remove Securebit Technologies Free Antivirus.
What is more, the bogus application requires that you enter the registration key which has been found in the binary:
Registration key: 7838408274
Try applying the registration key to disable the annoying pop-ups and remove the threat. If no changes are made, the malware locks the screen so that you have no choice but call the helpline provided in the warnings.
When you contact the support center, you will be offered to acquire an application which is said to be capable of unlocking your PC. We recommend that you do not contact the customer service as you cannot be sure that the program they are going to sell is legitimate.
If your computer has been already locked and you want to take control over the machine, the implementation of a powerful anti-spyware tool will surely have a significant effect. We recommend that you implement SpyHunter as this program is all that you need. It will remove Securebit Technologies Free Antivirus, which will be detected as Rogue.SecureBit, and safeguard the computer against computer infections or the installation of the potentially unwanted programs.
In non-techie terms:
Securebit Technologies Free Antivirus refers to a fake anti-virus program digitally signed by Secure Bit Technologies. The fake application is known as Free Antivirus, and if your computer contains this application displaying suspicious errors, remove it until it has locked the PC.
Aliases: Securebit Virus.