Do you know what Secure Surf is?
Secure Surf is a browser add-on for Google Chrome. Although it usually arrives on computers in software bundles, some users download it from the Chrome Web store (https://chrome.google.com/webstore/detail/secure-surf/djkpepogdbldmifcpafiiggibiekbjnm?hl=en) voluntarily. It seems that they believe that this application can work beneficially on their computers, and we cannot blame them because this extension is promoted as a useful piece of software that can make it possible to surf the web anonymously. Of course, not all the users are happy about the installation of this browser extension – they feel that it has slithered onto their computers illegally and changed the main settings of their Google Chrome browsers. Frankly speaking, we do not find it surprising at all that not all the users find Secure Surf a beneficial piece of software because it does not inform users in advance about the changes it is going to apply. If you find the changes applied to your browser undesirable too, we have only one piece of advice for you – remove the extension responsible for making these modifications today to put everything back to normal. There is nothing else you can do.
Judging from the amount of users who have installed the Secure Surf extension from the Chrome Web store, it is not prevalent yet, and, frankly speaking, we hope that it will never become one of the most popular untrustworthy applications spreading through the web. This extension is not malware, but we would lie if we said that it is a piece of software that you can fully trust. Our experienced team of specialists has even decided to classify it as a potentially unwanted program after doing research. They call it a PUP not without reason. The recent study has revealed that Secure Surf changes browsers' settings following the successful infiltration. Users are not told about that in advance, so they find that their favorite pages they had set as homepages and New Tab URLs are gone. They are all replaced by the search tool http://secure-surf.net/ set by the Secure Surf add-on. It does look like any other search tool. It has a search tool which should make users' web searches private; however, you should not blindly trust this search engine no matter that it seems to be a completely reliable search tool at first glance – it might have a serious drawback. According to our experienced specialists, the search tool promoted by Secure Surf might collect information about users. In other words, even though it is described as "the search engine that respects your privacy," it does not mean that it will 100% not record a single detail about its users. This is one of the main reasons the Secure Surf extension has been classified as a potentially unwanted program.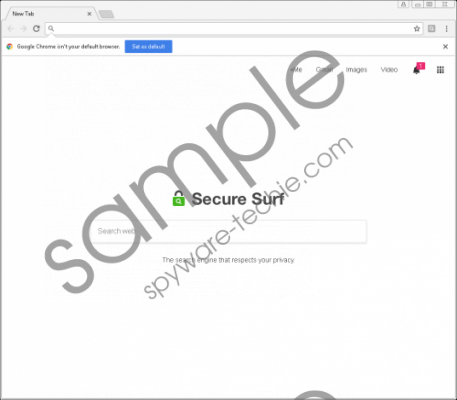 Secure Surf screenshot
Scroll down for full removal instructions
Although the official source of Secure Surf is the Chrome Web store, we are sure that not all the users who find this extension active on their computers download it from this place. In fact, some users do not even know why this piece of software is active on their systems, which suggests that it might be distributed differently, e.g. in software bundles as well. After the installation, it immediately changes Google Chrome browser's settings and appears in the list of add-ons on this browser, so you will find out about its appearance on your PC quickly. It is a potentially unwanted program rather than a trustworthy application, so we do not think that keeping it installed is what you should do.
If you want to see your preferred pages instead of http://secure-surf.net/, a search tool promoted by Secure Surf, when you open your web browser, you need to delete the extension linked to it today. We know that you will not find it easy to get rid of it if you have not deleted a browser extension in your life, so we have released a step-by-step removal guide for you.
Delete Secure Surf
Google Chrome
Open Google Chrome and go to its menu (tap Alt+F).
Click More Tools.
Select Extensions.
Click on the Secure Surf extension and then click on the Recycle bin button.
Click Remove.
In non-techie terms:
Secure Surf is a browser hijacker that promises to ensure the safety of the user's privacy. Although it is advertised as a beneficial piece of software, it still cannot be called fully trustworthy because it acts as a typical potentially unwanted program, or PUP. It sets a new search tool replacing users' favorite pages. Additionally, this URL it sets might start recording information about users. Last but not least, its ability to slither onto computers without permission also shows that it is not a piece of software that can be trusted fully.