Do you know what Secure-finder.org is?
When computer users encounter an unwanted or blatantly dangerous program, they are quick to label it as "virus." However, Secure-finder.org is not a computer virus. A computer virus is an entirely different category, and, most of the time, ordinary personal desktop computers seldom get infected with genuine viruses. Instead, they are tormented by lesser types of computer threats like Trojans, adware, browser hijacker, ransomware programs, and others. This domain we are discussing today is a browser hijacker, and it falls into the grey zone because it tries its best to pass for a legitimate program. Nevertheless, if you care about your computer's safety, you will remove Secure-finder.org right away.
Perhaps at first, we should discuss why it might be hard to label this program as a malicious infection. You see, malicious infections always enter computers surreptitiously. Seemingly, they come out of nowhere. While some users would probably like to say the same about Secure-finder.org, too, it is important to note that this browser hijacker can be downloaded directly from specific websites. Namely, the program has an extension that is compatible with the Chrome browser, and so, you can find that extension on the Chrome Web Store. Although the chances of users installing the extension willingly are rather low, the fact that the program is available out in the open does not allow us to label Secure-finder.org as a genuinely malicious infection.
The research shows that this extension can also be added to the Firefox browser, so now we have two major browsers that can be possibly affected by this security threat. In the light of this, we cannot stay idle. We have to tell you about the potential security issues you may face if this application manages to enter your system. And the program can certainly do so when you expect it the least.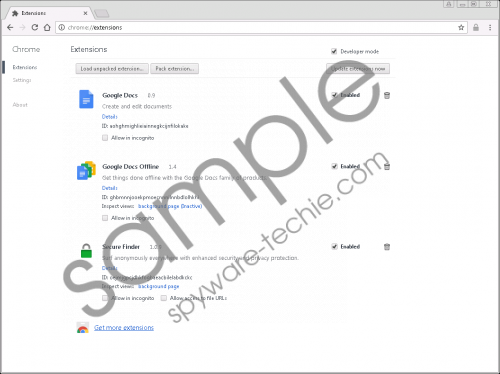 Secure-finder.org screenshot
Scroll down for full removal instructions
Just because the hijacker has official distribution sources, it does not mean it does not employ other routes as well. In fact, more often than not browser hijackers spread via software packages. It means that users download software bundles from a number of unfamiliar websites, and these software bundles carry more than one application within. It happens very often when users choose to download software from file-sharing websites. Think about it: anyone can upload their files over there, and practically no one checks whether the installer files for freeware are 100% safe.
As a result, Secure-finder.org and other potentially unwanted programs get installed on target systems with user's consent. Now, you might say that you did not agree to install this program or that you did not know it was part of a third-party installer. However, quite often the installation wizards do inform users about the additional programs and features, but users tend to skip the setup steps in favor of speedy installations. And we do not need to repeat ourselves because you already know what happens next.
The official description of this extension claims that the program that does "store, collect, or share any personally identifiable information," but the extension definitely changes your homepage and search engine settings to Secure-finder.org. This proves that the application is rather intrusive and it should not be trusted. In fact, when a program is there on your computer and you did not intend to have it on-board, it is the first sign that you have to remove it at once.
The security issues associated with this browser hijacker definitely include multiple redirections. Secure-finder.org will redirect your search results via plusnetwork.com, and this domain is known to security specialists, too. It also might look like the program provides you with relevant and reliable search results via Google or Yahoo! Search engines, but the truth is that all of your searches will be rerouted via plusnetwork.com, and this will allow the browser hijacker to monitor your online activity.
You should not tolerate that. The best way to regain your privacy is to remove Secure-finder.org from your system once and for all. You can find the manual removal instructions right below this description, but please do not forget that there might be more unwanted programs installed on your computer. To deal with them, run a full system scan with the SpyHunter free scanner. A trustworthy computer security tool of your choice will help you delete all the potential threats.
How to Delete Secure-finder.org
Firefox
Press Alt+H and open Troubleshooting information.
Click Refresh Firefox at the top right of the new tab.
Click Refresh Firefox on the confirmation box.
Press Finish.
Chrome
Press Win+R and the Run prompt will open.
Type %LOCALAPPDATA% into the Open box and click OK.
Navigate to Google\Chrome\User Data\Default\Extensions.
Remove the oejmjgpcjdhkfogbaeacbilelabdkckc folder.
Go to the Default folder and open the Sync Extension Settings.
Remove the oejmjgpcjdhkfogbaeacbilelabdkckc folder.
Go back to the Default folder.
Delete the Preferences, Secure Preferences, and Web Data files.
In non-techie terms:
Secure-finder.org may look like a useful search engine that can help you find the best things in the world. However, this program is a browser hijacker, and it can expose you to dangerous cyber content. In other words, if you are not careful, through Secure-finder.org, you could end up getting infected with Trojans and viruses. Prevent this from happening by removing the browser hijacker today. You can do it manually, but if you need any assistance with that, please feel free to drop us a note in the comment section below.