Do you know what Secure Chrome PRO is?
Secure Chrome PRO is supposed to warn the user when he is about to enter an unreliable website, although, in reality, the application itself encourages the user to surf the Internet with an untrustworthy search engine titled defendsearch.com. Consequently, it was decided the tool should be categorized as a browser hijacker. Currently, it works only on Google Chrome, which means the extension cannot be encountered if you are using a different browser. In order to get to know this questionable add-on better and learn how to avoid similar threats in the future, we invite you to review the rest of our report. At the end of it, users will find our removal guide showing how to get rid of Secure Chrome PRO manually. However, if you have more questions about the browser hijacker or need more help with its deletion, you could leave a comment below the article as well.
One can find Secure Chrome PRO on chrome.google.com/webstore page. According to the information on Chrome Web Store page, the application is not particularly popular as for now it has only 74 users. Hopefully, the short description and lack of details related to the add-on's developers and working manner prevents some of the Google Chrome's users from downloading it. Our computer security specialists believe users should always learn about the chosen program's creators. If the developer is unknown and you cannot find any information about it, this should signal something might be wrong. You should also be extra careful when the software does not have the Privacy Policy, Terms of Use, and End User License Agreement documents. Not providing such statements does not say anything good about the program or its developers; on the contrary, it suggests it might be done on purpose to hide the information that could stop the user from downloading it.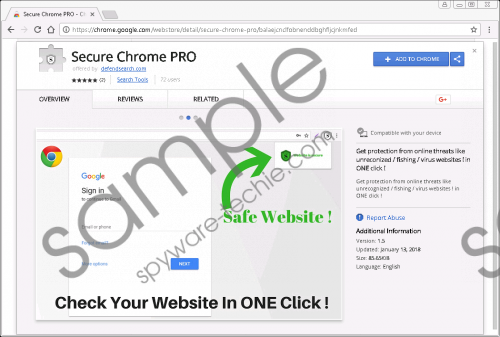 Secure Chrome PRO screenshot
Scroll down for full removal instructions
What happens if you install Secure Chrome PRO? Our computer security specialists report it might replace the browser default search engine with defendsearch.com. Again, this search engine does not have any Privacy Policy or other essential documents alike. What's even worse, during our test we noticed it could be using a modified Google search engine to gather the results. We cannot be one hundred percent sure, but there is a possibility the browser hijacker could do so to add unreliable advertisements among the search results. If this appears to be true, we advise you to be careful with such ads as it would be best not to interact with them unless you are entirely sure they cannot harm the system or lead to you to web pages designed to steal user's private data. On the other hand, we believe it would be safer just to erase Secure Chrome PRO as we do not see any use in keeping such an application on your browser. It is doubtful it can help with identifying questionable web pages when it cannot be trusted itself.
For users who wish to deal with the browser hijacker on their own, we would suggest using the removal guide located a bit below this article. It will explain how to find and get rid of all files that could have been created or altered by Secure Chrome PRO. Less experienced users who find these steps a bit challenging could employ a reputable antimalware tool. In which case the user could just wait till the chosen tool finishes scanning the computer and then press the deletion button to eliminate all detections at once.
Erase Secure Chrome PRO
Press Windows Key+E.
Search for the following locations:
%USERPROFILE%\Local Settings\Application Data\Google\Chrome\User Data\Default\Extensions
%LOCALAPPDATA%\Google\Chrome\User Data\Default\Extensions
Find directories titled balaejcnclfobnenddbghfljcjnkmfed.
Right-click them separately and choose Delete.
Look for this particular directory: %USERPROFILE%\Local Settings\Application Data\Google\Chrome\User Data\Default
Find files named Preferences and Secure Preferences.
Right-click them and select Delete.
Close File Explorer.
Empty Recycle bin.
In non-techie terms:
Secure Chrome PRO appears to be another browser hijacker targeted at Google Chrome's users. The application is not malicious or highly dangerous, but still, our computer security specialists believe it would be a mistake to keep it on the browser. It is because the research revealed the add-on does not provide vital information about its working manner or its creators. Accordingly, its reliability remains to be doubtful. What's more, there is also a possibility the tool or its search engine could display questionable advertisements from unknown sources. Under such circumstances, we advise users not to risk their computer's safety and erase the unreliable extension at once. Those of you who would like to eliminate it manually could use the removal guide located a bit above this paragraph. The browser hijacker can be deleted with a reliable antimalware tool too; you just have to install it and run a system scan.