Do you know what Searchz.co is?
It is important to have a fully secure system at all times if you do not want to come across and experience the negative effects of applications such as Searchz.co. This particular program is a browser hijacker, which like any other application that belongs to this category will ruin your online experiences in a number of ways. If you ever come across it, do not download it even if you are tempted by various claims that it could come in handy. In quite a few cases malware developers are known to use misleading marketing techniques to lure users into acquiring their devious software. Make no mistake about the hijacker in question since it could also prove to be as dangerous as it is annoying. To find out more about its potentially harmful and invasive functionality, read the rest of our report. Below, you will also find detailed instructions that must be used to remove Searchz.co in its entirety.
Searchz.co is known to be compatible with browsers such as Internet Explorer, Google Chrome, and Mozilla Firefox; thus, even though the hijacker is not widely popular at the moment it could potentially affect a huge number of users. Once the devious application fully enters your operating system, your default homepage will be altered right away. So for as long as it is fully active on your PC you will have no choice but to start each online session on a questionable third-party web page, which is frustrating to put it lightly. The new homepage is basically a website that hosts a search box, which might seem quite useful at first sight. Unfortunately, this is not the case because in quite a few situations you will be presented with useless, sponsored results. While this is mostly annoying, we also want to inform you that there is a possibility that you could come across a result that might be hosting a potentially dangerous redirect link. This means that by clicking on a seemingly harmless search result, you could end up on a malicious website, which could lead to a system infection. In other instances, you could be redirected to fake online shops, which are crafted by cyber criminals for one reason only - to steal your credit card data. As you can see, at first sight, Searchz.co might appear just as an annoying program, while in reality, it could prove to be a major virtual security threat; therefore, it should be self-evident that its complete removal is crucial and should not be delayed.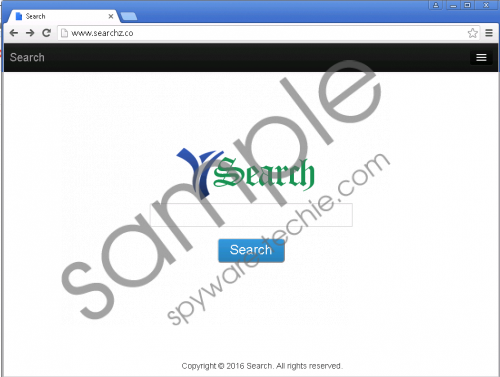 Searchz.co screenshot
Scroll down for full removal instructions
In most cases, users infect their operating system with Searchz.co or with any other suspicious program because they lack basic knowledge regarding virtual security and its overall importance. To help you avoid this or any other undesirable program, we provide a few tips. Firstly, you should, at all times download your software from official developers' websites only as they are known to provide you with safe setup files. In most cases software bundles, which are often used by malware developers to spread their questionable programs, are up for download on unauthorized third-party downloads sites; thus, avoiding such web pages, will significantly reduce chances of coming across a suspicious installer. Also, we recommend learning as much as possible about a program that you wish to run on your PC before even downloading it since naive internet users are exploited by various manipulative marketing techniques employed by cyber crooks. You can always check a name of a program on our website if you feel unsure about it; that could allow you to avoid a potentially harmful application. Lastly, but most importantly, make sure to run a professional antimalware tool on your PC at all times as it is your best bet to maintain a fully secure system at all times because it can detect and warn you in advance about any threatening content on your PC or online.
To completely remove Searchz.co from your computer, follow the instructions that we present below. It is critical to delete every single bit of this browser hijacker to regain standard functionality of your web browser. In some instances, just a few leftovers could be used to restore Searchz.co in a silent way or might be just enough for its changes to remain intact. Avoid finding yourself in such a situation by simply executing an in-depth analysis of your personal computer for potential traces of this hijacker. If any are found, do not hesitate to delete them. By performing such analysis right after the manual removal procedure, you will be sure that the hijacker has been removed in its entirety.
How to remove Searchz.co from your PC
Google Chrome
Start your web browser.
Click the Menu button.
Select Settings.
Click Show advanced settings and select Reset settings.
Click the Reset option to confirm your choice.
Mozilla Firefox
Launch your web browser.
Select the Menu button and click the question mark icon at the bottom.
Select Troubleshooting Information.
Click Refresh Firefox.
Click Refresh Firefox to confirm your choice.
Internet Explorer
Open your web browser.
Click the Menu button.
Select Internet Options.
Click Advanced.
Select Reset.
Check Delete personal settings and then click the Reset button.
Click Close.
In non-techie terms:
In some cases, users might not feel qualified enough to execute a manual removal themselves. We are well aware of this fact; therefore, malware experts at Spyware-Techie.com have crafted an alternative removal guide. Follow the instructions below and you will be able to delete Searchz.co in an automated manner.