Do you know what SearchVoyage.com is?
Users usually encounter SearchVoyage.com (search.searchvoyage.com) when they install the extension called Search Voyage from its official website or the Chrome Web Store. People who install this piece of software willingly usually do that because the extension is quite appealing, for example, it is said that users will be able to customize their New Tab pages after installing it. Unfortunately, what they do not know when they install this software is that it is going to change the settings of Mozilla Firefox and Google Chrome browsers. Of course, some users install the Search Voyage extension unwillingly, so they do not know anything about it, and they are not even asked whether they agree with the changes or not. You should definitely delete the Search Voyage extension if you do not like something about it or simply want to make sure that nothing bad happens to your system.
Let us talk about the changes the Search Voyage extension applies. First of all, we are sure that you will notice that your default search engine, homepage, and New Tab page settings have been replaced by SearchVoyage.com, which is the search engine promoted by the extension. It does not look bad at all, and it even shows the weather forecast and current data and time. Even though it looks quite good, the truth is that it cannot be fully trusted. Yes, this search engine will redirect searches to search.yahoo.com; however, these search results will be modified, i.e. there will be sponsored links inserted among the legitimate search results. Of course, it does not mean that Yahoo! is a bad search provider; the owners of the Search Voyage extension simply modify it for their own purposes. It is better not to use search engines that display the modified search results because they might promote third-party websites and you might end up on one of them rather willingly. You can say that you will not click on bad search results, but you should know that it is not enough to do that because it is extremely hard to recognize them. Last but not least, we do not suggest trusting this search engine fully also because it is known that this search provider will gather all kinds of details every day.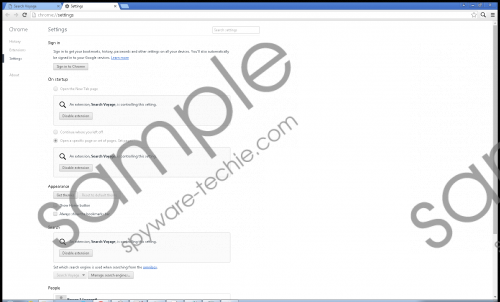 SearchVoyage.com screenshot
Scroll down for full removal instructions
Specialists have revealed that the Search Voyage extension is the most prevalent in the USA; however, the situation might change quickly in the future because this extension can be easily downloaded from the web (it is available for download from two different sources). Do not forget that it might sneak onto your PC in bundles with other applications, i.e. enter your PC without your consent as well. Other threats might act the same as well, which means that you need to take care of your system's safety. If you wonder how to do that, you should know that you simply need to install security software and try to be more careful and observant on the web. Our security specialists also highly recommend that you do not download freeware from file-sharing websites because you might get additional threats. Yes, the majority of threats travel bundled with other programs these days.
SearchVoyage.com will not replace your homepage, search engine, and set itself on the New Tab page without the extensions, which means that you need to find extensions for Mozilla Firefox and Google Chrome and then delete them from the system completely. If it is your first time, you should use our instructions because it is not so easy to remove add-ons. Completely inexperienced users or those who do not have time can also take care of Search Voyage with the help of an automatic tool. It will be enough to scan the system once if you use the SpyHunter antimalware suite.
Delete SearchVoyage.com
Mozilla Firefox
Open your browser.
Tap Ctrl+Shift+A.
Select Extensions.
Find and remove the undesirable extension.
Remove it.
Google Chrome
Open your browser and tap Alt+F.
Select More Tools and click Extensions.
Click on the extension you wish to remove.
Click on the recycle bin icon.
Click Remove.
In non-techie terms:
If you suspect that the Search Voyage extension has been installed on your PC without permission, there is a huge possibility that other undesirable programs have been installed alongside. Some of these programs are not only annoying, but might also cause harm to your computer, so keeping them installed is a sin. If you do not have time to take care of these threats yourself, use an automatic tool.