Do you know what Searchvaults.com is?
Searchvaults.com is a suspicious search engine you should be careful with. Its creators claim it to be "your best search engine," but we doubt it. As you see, the application gathers search results with google.com, although there is a chance it can still modify these results, which is why we believe it would be safer to browse with the original Google search engine. According to our computer security specialists, the difference is Searchvaults.com may show untrustworthy advertisements from the third party next to the results it might collect with google.com. Third-party links, pop-ups, and other ads could promote unreliable programs, web pages, and so on. Thus, in order not to encounter such content we would advise users to erase this doubtful tool immediately. To help with this task, our computer security specialists have prepared a removal guide you can follow if you slide a bit below the main text.
Our computer security specialists are saying the application could be bundled with various other tools, for example, browser extensions, toolbars, etc. The software Searchvaults.com might be bundled with might be considered as adware, potentially unwanted programs, browser hijackers, and so on. Therefore, the chances are users could download it from unreliable file-sharing web pages, while clicking untrustworthy pop-up ads or links, etc. If you believe you received this tool through similar channels, we advise you to be more cautious the next time if you want to keep your system safe. In general, researchers recommend against visiting file-sharing sites, downloading applications there is not much information about, etc. However, if you do download a program from the suspicious website, we advise picking advanced or custom installation settings so you could uncheck bundled software.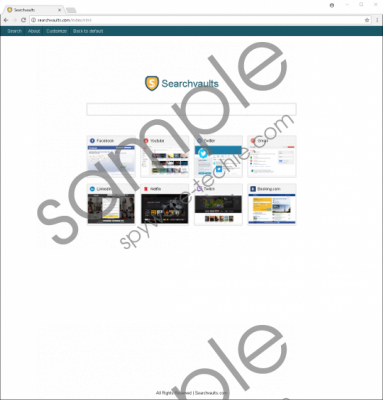 Searchvaults.com screenshot
Scroll down for full removal instructions
The tool could settle in by replacing user's homepage, default, search engine, or even new tab page. After submitting a search keyword, our computer security specialists noticed the user should be redirected to google.com where he should see results matching his submitted keyword. The problem is we believe with such results there might be questionable advertising content from the third party. While reading the software's description, its Privacy Policy (PP) and End User License Agreement (EULA) documents we noticed a few statements suggesting Searchvaults.com could show third-party advertising. First of all, there is a line in the description saying "Not just regular search results but also info provided by 3rd party sources." Then the EULA paper claims "This Web site may contain links to other Web sites which are independent of this Web site. We make no representation or warranty as to the accuracy, value, integrity, completeness or authenticity of the information or opinions contained in any such linked Web site." This may not necessarily mean Searchvaults.com will show any untrustworthy content, but keep it in mind there is a chance it might, and if you do not want to take such a risk, we advise removing this doubtful tool.
It looks like it should be enough to reset the affected browser and Searchvaults.com should disappear. The removal guide explaining how to do this should be available just a bit below the text. If you find it a bit too complicated or prefer using automatic features instead you could download a reputable antimalware tool and let it deal with this unreliable search engine for you.
Erase Searchvaults.com
Internet Explorer
Press Alt+X.
Pick Internet Options.
Open the Advanced tab.
Click Reset and mark Delete personal settings.
Press Reset again and click Close.
Mozilla Firefox
Press the Help icon.
Select Troubleshooting information.
Click on Refresh Firefox.
Press Refresh Firefox again and click Finish.
Google Chrome
Press Alt+F.
Select Settings and slide down.
Click on Advanced.
Scroll down again and select Reset.
Press the Reset button.
In non-techie terms:
Searchvaults.com might not seem unusual or potentially dangerous, but our computer security specialists warn users it might not be as reliable as it may seem. For starters, it gathers search results with google.com, which means it has no means to find anything for you itself. Also, based on the information given in the Privacy Policy, End User License Agreement documents or the software's description it seems to us the application could be capable of displaying untrustworthy advertising content from the third party. For safety reasons, we would recommend not to click such ads as some of them could originate from scam web pages, sites distributing various threats, and so on. It seems to us the safest solution would be to get rid of this questionable search engine either manually with the removal guide provided a bit above this paragraph or with the help of automatic features of a reputable antimalware tool you prefer.