Do you know what Searchutorrm.com is?
It seems that the company Polarity Technologies Ltd. specializes in the development of browser hijackers primarily because it has already developed Searchutorrm.com, Search.searchbrs.com, Search.searchdcnow.com, Search.Searchfreedm.com, and a bunch of other websites known as browser hijackers. Searchutorrm.com is the focus of this article because it has been developed the most recently. Are you reading this article because it has already hijacked your browsers? If so, you need to go to erase it from your web browsers as soon as possible because using this search engine as a default search tool is not recommended and might result in a number of problems. Take care of this undesirable search tool as soon as possible because the longer it is set on your browsers, the longer you could not set a new URL as your homepage. Searchutorrm.com needs to be removed from browsers not only because it has fallen into the category of browser hijackers. Several disturbing findings which have proven that this URL is not a reputable search tool have been made by specialists – you will find more information about its drawbacks in the paragraphs that follow.
Searchutorrm.com has been developed on the same template as a bunch of search tools developed by Polarity Technologies Ltd. Therefore, it does not differ much from these older websites. First, it changes all browsers' (Internet Explorer, Google Chrome, and Mozilla Firefox) it finds installed on the system settings. Specifically speaking, Searchutorrm.com becomes a homepage. Because of this, it is the first page users notice when they open any of their web browsers. It might seem at first glance that this web page is a legitimate search tool, but we can assure you that it is not. Unfortunately, many users do not know that it is a troublesome browser hijacker and use it to perform web searches. It is a huge mistake they make. Using this search engine to find the information on the web might even result in the entrance of malicious software. Let us explain this briefly to you. Our team of experienced specialists has carried out research which has revealed that Searchutorrm.com does not show trustworthy search results like Google, Yahoo!, or other reputable search engines do. Instead, it displays sponsored search results promoting third-party pages. They are displayed to users expecting that they will click on them. The more users click on them, the more money the developer of this browser hijacker gets. It might be extremely dangerous for users to click on those ads because they might redirect to corrupted pages. These pages might be administered by cyber criminals and try to install malware on your computer. On top of that, they might also collect personally-identifiable information.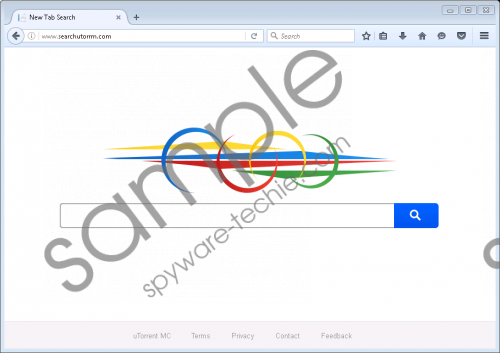 Searchutorrm.com screenshot
Scroll down for full removal instructions
Research has revealed that Searchutorrm.com collects information about users too. It seems that it does not try to hide this fact because this information is available in its Privacy Policy document and users can access it easily at any time. If you open this document and read it from beginning to end, it will become clear that two types of information are recorded by Searchutorrm.com: personal and non-personally identifiable information. Luckily, it will access only those personal details submitted by users. Unfortunately, the majority of people do not read Privacy Policy documents and, consequently, do not know how Searchutorrm.com is going to act on their systems, so we are sure they will fearlessly use it as a default search tool. These users risk encountering malware and experiencing privacy-related issues.
You see Searchutorrm.com when you open your browser because a browser hijacker has successfully arrived on your computer in a software bundle, or you have set it as a homepage yourself, but we do not believe that you have done that. Either way, this untrustworthy search tool must be deleted from browsers as soon as possible. Resetting browsers to their default settings is the easiest way to make it gone.
How to delete Searchutorrm.com
Internet Explorer
Start Internet Explorer.
Tap Alt+T and click Internet Options.
Open the Advanced tab.
Click Reset.
Put a tick in the Delete personal settings checkbox.
Click Reset.
Mozilla Firefox
Open Mozilla Firefox.
Open the Help menu and tap Alt+F.
Find the Refresh Firefox button at the top and click on it.
In the confirmation window, click Refresh Firefox again.
Google Chrome
Open your Google Chrome web browser.
Tap Alt+F.
Click Settings and go to the bottom.
Click Show advanced settings.
Click Reset settings.
Click Reset when a pop-up confirmation window is opened to you.
In non-techie terms:
Searchutorrm.com is a browser hijacker which is usually spread in software bundles, so if you have not set this search tool on your browsers, it must have arrived on your PC in a software bundle and then changed your browsers' settings without your knowledge. Browser hijackers do not travel alone, so you should scan your PC with an automatic scanner to find other active threats. If you have removed Searchutorrm.com automatically, all undesirable applications have already been removed from your system too. In this case, it is not necessary to scan the system with an automatic scanner again.