Do you know what Searchult.com is?
Searchult.com is a dubious search provider to say the least. Often users do not realize that a search provider could be potentially dangerous just like a dubious application, and you must know that this is the case with Searchult.com. This particular search engine does not provide any proper results of its own. Furthermore, it is well-known that it is linked to other suspicious applications. Malware experts at Spyware-Techie.com recommend that you remove Searchult.com ASAP if found on your browser. Often the presence of Searchult.com might indicate that other questionable programs are present on your PC. You should not hesitate and check your PC for them as well. The report provides virtual security tips along with a detailed removal guide, so please read on.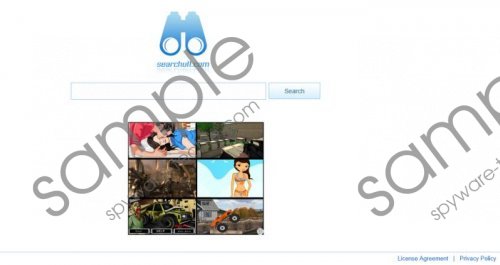 Searchult.com screenshot
Scroll down for full removal instructions
In most cases, users get their default search engine switched while installing some dubious application onto their system. We noticed that Searchult.com is mostly set as your default search engine while installing freeware via installer known as Apps Installer SL. This installer and many of its counterparts can be acquired on various fake download websites, or websites that are related to online piracy. Such web pages should be avoided at any cost. Furthermore, implementing a trustworthy antimalware tool is firmly advised as it will protect your operating system from various internet-based infection at all times.
Once your browser is affected you will see that the default search engine is set to Searchult.com. Unfortunately, using it could be quite dangerous. If you try to conduct a search using Searchult.com, you will notice that no results will be displayed. Instead, you will be redirected to search.yahoo.com. Search results provided by Yahoo are legitimate, but that is not what is important to note here. Just because at a given moment Searchult.com redirects users to an authentic website it does not rule out the possibility that you might get redirected to a suspicious website setup by malware distributors. Such websites could turn out to be extremely detrimental as it might turn out to be a corrupted websites running an arbitrary code execution exploit or some fake website setup to steal your sensitive data. It is advisable to ignore the search engine until Searchult.com is thoroughly removed from your operating system.
Do not hesitate to remove Searchult.com as it is not useful or secure. Use our removal guide to delete Searchult.com from your browser. Carry out the removal process with caution in order to remove the annoying search provider entirely. As mentioned earlier, Searchult.com might indicate that some other unwanted applications might be present on your PC. That is why we firmly advise you to analyze your operating system for them if Searchult.com is present on your browser.
How to delete Searchult.com
Remove Searchult.com from Google Chrome
Launch your browser and tap Alt+T then select Settings.
Under the On startup section, check Open a specific page or set of pages.
Then click Set pages.
Now remove Searchult.com URL and enter the website of your choice and click OK.
Then under the Appearance section check Show Home button.
Once again remove Searchult.com URL and enter a website of your choice and click OK.
Now under Search section click Manage search engines.
Now chose a new default search engine and then click X over Searchult.com engine.
Click Done.
Remove Searchult.com from Mozilla Firefox
Open your browser and tap Alt+T then select Options.
Delete the Searchult.com URL from the Home Page section.
Enter the website of your choice and click OK.
Now click the search icon and select Manage Sear Engines…
Locate and select Searchult.com search engine, and then click Remove and OK.
Remove Searchult.com from Internet Explorer
Launch your browser and tap Alt+T and select Internet Options.
Then delete the Searchult.com address from the Home page section.
Now enter a new home page address of your choice, and then click Apply and OK.
Now tap Alt+T again but select Manage Add-ons.
Click Search Providers.
Now set a new search provider, and then select Searchult.com and click Remove.
Finally, click Close.
In non-techie terms:
Since it is known that Searchult.com is distributed via dubious installers, it is likely that your system might be running a suspicious application along with Searchult.com. If you wish to secure your system in order to maintain it clean, use the instruction provided below.