Do you know what Searchthatup.com is?
At first glance, Searchthatup.com may look like a genuine search engine that can make your web search experience better. However, we regret to tell you this program is yet another browser hijacker that has been created to generate a financial profit via the pay-per-click system. The worst about this program is that the users who help it make money get nothing in return. What's more, they might also end up getting infected with malware, so you will do yourself a favor if you remove Searchthatup.com from your system immediately. After all, this is why you opened this page, right?
There seems to be an onslaught of similar browser hijackers these days because we have described at least three of four browser hijackers with the same behavioral symptoms within the course of the few last days. Consequently, we can see that Searchthatup.com is an identical clone of Topsocialhubsearch.com, Securefindersearch.com, Searchtechstart.com, and a number of other browser hijackers. It seems that they have all been released at the same time, to make sure that the number of the infected users is relatively big, and so that the revenue from this campaign is reasonable. Nevertheless, you should not be the one who helps these crooks make some money out of you.
Luckily, Searchthatup.com cannot steal your banking logins and passwords, but that allows us to breathe just a tiny sigh of relief. It gives you time to remove this application, but before you go down to that, you have to understand how it entered your computer in the first place. You can probably tell there is no direct distribution source for this browser hijacker. In fact, our research team believes that your computer has been infected prior to Searchthatup.com entering your system. This browser hijacker is known to be distributed via annoying pop-ups that are generated by potentially unwanted programs. And so, you must have installed a few potential threats way before the hijacker appeared on your computer.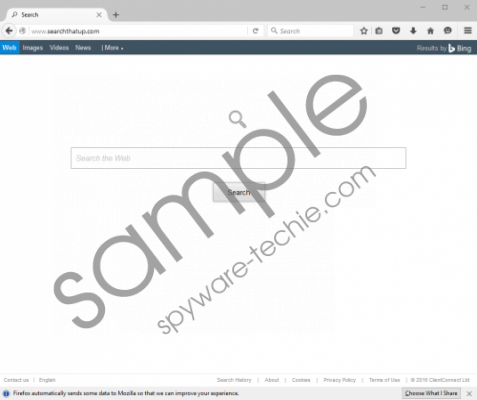 Searchthatup.com screenshot
Scroll down for full removal instructions
It is easy to install unwanted programs, especially if you often download software from third-party sources. Our research team indicates SwiftSearch, InteliTerm, and TermTrident as the main culprits behind the hijacker's distribution. You probably installed these programs when you downloaded some codec or a file converter from a file-sharing website, and you did not pay attention to the steps on the installation wizard. Users seldom realize how important it is to check all the steps because you may be given a chance to deselect unwanted applications, and users miss that chance because they are too hasty to complete the installation process.
As a result, the likes of Searchthatup.com enter their system and modify their default homepage address. Aside from that, the hijacker will also display modified search results via the Bing search engine. Please note that Bing is not in any way related to this browser hijacker. The infection simply uses the reputable search service to make it seem as though it is also a reliable tool. Nevertheless, the hijacker will employ tracking cookies to collect information on your web browsing habits. With that information, the program will be able to process your online profile, learning your likes and preferences. Although it cannot collect personally identifiable information, your search history is enough for the program to know what content would be of interest to you.
Of course, you will know better than to click those modified links because some of them could redirect you to dangerous websites. Does his browser hijacker intend to infect you with malware? Definitely not. But Searchthatup.com is too vulnerable for third-party exploitation, and so cyber criminals could easily make use of this browser hijacker to distribute their malicious content.
You can protect your system from dangerous threats by killing this problem in the early stages. Check out the manual removal instructions below if you want to delete Searchthatup.com by yourself. On the other hand, you may not be able to locate all the potential threats associated with this infection, so you can always can your system with the SpyHunter free scanner to do that. Not to mention, a computer security tool of your choice will remove all the malicious infections, at the same time safeguarding your system from other intruders in the future.
How to Delete Searchthatup.com
Internet Explorer
Press Win+R and type regedit into the Open box.
Click OK and go to HKEY_CURRENT_USER\Software\Microsoft\Internet Explorer\Main.
Right-click the Start Page value on the right.
Choose Modify and change the startup address.
Click OK and exit Registry Editor.
Firefox
Press Win+R and type %AppData% into the Open box. Click OK.
Navigate to Roaming\Mozilla\Firefox\Profiles\[Unique Mozilla user ID].
Locate and open the prefs.js file.
Find and delete this string: user_pref("browser.startup.homepage", "http://searchthatup.com");
Chrome
Press Win+R and the Run prompt will open.
Type %AppData% into the Open box and click OK.
Go to Local\Google\Chrome\User Data\Default.
Delete these files: Preferences, Secure Preferences, and Web Data.
In non-techie terms:
If your homepage suddenly changed to Searchthatup.com, you have clearly been infected by a browser hijacker. It means that all of your online activity is monitored, and the infection stores information about it. This information can be used against you, if you do not remove Searchthatup.com immediately. In the description above, you can find more details about this program, and also the instructions that will help you to get rid of this intruder.