Do you know what Searchtabnew.com is?
Searchtabnew.com search engine's description might make an impression that it is one of the best search tools you can find, but can you actually trust it? This is the central question we will try to answer in this report. Our researchers have tested the application in our internal lab themselves and from what they have learned, the software seems rather similar to a browser hijacker, although it does not fall under this category yet. Apparently, Searchtabnew.com might replace some of the user's browser preferences, and it may also show him third-party advertising content. The worst part is that the displayed ads could be potentially dangerous, so clicking them might cause you trouble. However, users who do not wish to take any risks can still erase this suspicious search engine with the removal guide placed below or a reliable antimalware tool.
First of all, we should tell you that Searchtabnew.com is distributed together with a browser extension called Search Tab New. It is described as "the most intuitive, fast and accurate" search tool for user's browser. The reason we doubt the application could be so enhanced because it is possible it could use another search engine to collect the results, for example, yahoo.com, google.com, etc. Logically thinking, how can the application be any better or faster than these mentioned engines when it depends on them? Thus, if the software, in fact, redirects users to yahoo.com or other similar websites, its description might have been exaggerated.
The other reason we doubt Searchtabnew.com reliability is because of the software's Terms of Use statements. For example, one of it says that "by accessing the Sites and downloading the Content, you hereby grant us permission to display promotional information, advertisements, and offers for third party products or services" It means when users download Search Tab New extension and allow its search engine to replace their preferences (default search engine, homepage, new tab page), they also let the software show them advertising content.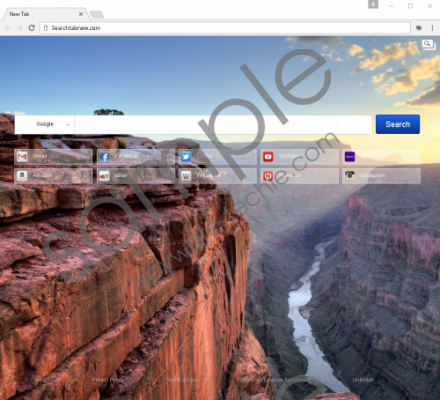 Searchtabnew.com screenshot
Scroll down for full removal instructions
Unfortunately, there is a possibility the provided advertisements could be potentially dangerous. The Terms of Use document states that the application's creators do not take any responsibility for these ads or any other third-party content. This could mean the ads may come from anywhere, and probably no one reviews what they advertise. Potentially dangerous advertisements could promote threats like browser hijackers, potentially unwanted programs, adware, or even malicious applications. If you click third-party content and get redirected to another site you should also pay attention to the website's Privacy Policy statements because you might encounter untrustworthy sites that could try to collect sensitive or private data.
As you probably already realize it, Searchtabnew.com is not as enhanced as you may have believed. If you do not think it is reliable enough to keep it on your browser, we advise not to take any chances and eliminate the application. The deletion part is not particularly difficult since users can get rid of this search engine by simply erasing the browser extension it came with. In case you do not know how to delete the add-on, we added a removal guide below this text. After you complete the provided steps, you could also scan the computer with a reliable antimalware tool. It would identify any other possible threats and help you eliminate them as well.
Erase Searchtabnew.com from Internet Explorer
Windows 8/Windows 10
Press Windows Key+R.
Type Control Panel and select OK.
Choose Uninstall a program.
Select the application related to Searchtabnew.com and press Uninstall.
Windows XP/Windows Vista/Windows 7
Go to Start menu and open the Control Panel.
Select either Uninstall a program or Add or Remove Programs.
Mark the unwanted application and select Uninstall.
Delete Searchtabnew.com from other browsers
Mozilla Firefox
Press CTRL+SHIFT+A combination and select Extensions.
Click the undesirable program and press Remove.
Google Chrome
Tap ALT+F, pick Settings and click More tools.
Choose Extensions and select Search Tab New for Chrome.
Press the trash bin button and click Remove.
In non-techie terms:
Searchtabnew.com is a suspicious search engine that might be installed together with a browser extension called Search Tab New. This software may gather data related to the user's browsing habits and accordingly show him more attractive advertisements. The problem is that these ads would come from different third parties and so it is hard to ensure their reliability. In other words, some of the promoted content could be potentially dangerous, for example, it could advertise web pages distributing malware, adware, potentially unwanted programs, and so on. Luckily, you have a choice, and if the application is not something you want to keep on the system, you can erase it with the removal guide located below or with reputable antimalware software.