Do you know what SearchShock.com is?
Most computer users are surprised to discover that SearchShock.com has replaced the regular home page and search provider tools on the popular web browsers. Whether you operate Chrome, IE or Firefox, this suspicious search tool is never invited, and so its activity is usually surprising. Even if you have accepted search provider modifications when installing bundled software, SearchShock.com removal is something we recommend. It has been discovered that this search tool actually presents the services of search.coupons-bar.com. Do not be mistaken – the CouponsBar search provider is not trustworthy either. Continue reading to learn how to delete this hijacker.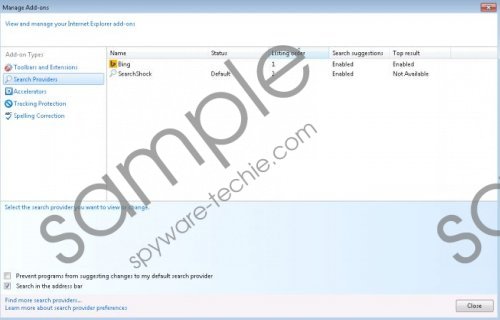 SearchShock.com screenshot
Scroll down for full removal instructions
Whether you have installed SearchShock.com yourself, or it has hijacked your browsers illegally, it is most likely that you are not familiar with search.coupons-bar.com. This is the search provider you will be presented with if you decide to use SearchShock.com as a regular search tool. In fact, the Video, News and Images searches are there just for the show and have no functionality. On the other hand, you will be able to browse the web using such tools as News, Shopping or Coupons if you use the services of search.coupons-bar.com. Keep in mind that these use separate privacy policies, and you need to review both of them. All in all, both disclose that there are certain virtual security risks, like private data leaking, if you use the services. This is why you should delete SearchShock.com right away.
You should not ponder about SearchShock.com removal for any longer. It is clear that this search tool has no value, and instead of serving beneficially, it is more likely to collect private information, create unauthorized connection to the Internet, and enable the ads/sponsored links presented via adware servers. To delete SearchShock.com from the browsers you firstly should follow the manual removal instructions below. As soon as the home page and the default search provider tools are replaced, you can install a legitimate malware remover to delete remaining malware and enable further protection.
Delete SearchShock.com from the browsers
Delete from Mozilla Firefox:
Open Firefox and locate the Firefox search box on the right of the page.
Click the search provider icon to access a menu and select Manage Search Engines.
Remove the undesirable search provider and then click OK.
Now simultaneously tap Alt+T to open the Tools menu at the top of the page.
Select Options and click the General tab located on the left side.
Change/remove the undesirable Home Page URL and click OK.
Delete from Internet Explorer:
Open IE and simultaneously tap Alt+T to open the Tools menu.
Select Manage Add-ons and navigate to the menu on the left.
Now select Search Providers and choose a new default search tool.
Remove the undesirable search provider and then click Close.
Simultaneously tap Alt+T again and select Internet Options.
Click the General tab, change/remove the Home Page URL and click OK.
Delete from Google Chrome:
Open Chrome, simultaneously tap Alt+F and select Settings.
Under On Startup mark Open a specific page or set of pages and click Set pages.
Find the URL of an undesirable search tool, remove/overwrite it and click OK.
Under Appearance mark Show Home button and click Change.
Now remove/overwrite the URL of the undesirable search provider and click OK.
Under Search click the Manage search engines and select a new default provider.
Click X on the URL of the search tool you wish to remove and select Remove.
In non-techie terms:
SearchShock.com is a browser hijacker you should remove from the operating system and the browsers. Sometimes it is not enough to replace the undesirable search tools to delete the infection fully, which is why we strongly recommend using automatic malware removal software. This software is designed to delete malware and shield the operating system against schemers attacks, and so you should not hesitate to install it.