Do you know what Searchprotector.net is?
Searchprotector.net is yet another search engine whose presence could pose a potential threat to your system. This search website appears to be completely reliable and legitimate and this is why unsuspecting users would not even bother to double-check what they are dealing with. But we are here to warn you that even this innocent-looking search engine may expose you to unreliable web content and it can also sneak onto your system along with several more malware infections. This means that when you find this search engine in your browsers as your new home page, new tab, and default search engine, your PC could be quite vulnerable to cyber attacks and you could be introduced to an increased number of malicious content while surfing the web. No wonder why our researchers say that you should remove Searchprotector.net right away when you notice it. If you want to know more about why this search engine may have managed to sneak onto your PC and how you can safeguard your system against similar malicious attacks, please continue reading our report.
There are a couple of ways for you to infect your browsers with this risky search engine. The most likely way is that you install a free software bundle that you download under questionable circumstances. This could mean that you download this bundle from a suspicious torrent or freeware page that you are unfamiliar with. You can easily land on one after a web search on a free program, if you are not careful enough. No wonder why we always emphasize that you should only use official and trustworthy websites for downloading programs and updates as well unless you want to end up with a bunch of malware threats bundled together. In addition to this option, you may also click on unsafe third-party ads that could drop such a bundle or redirect you to malicious pages that could convince you to download certain software or an update, which would again be a bundle of malware infections. You could be exposed to such advertisement if your system is infected with adware or if you visit suspicious pages filled with third-party ads. We advise you to refrain from engaging with commercials in general unless you are completely sure that your system is clean and the website you are viewing is a reputable one. If you are in doubt, you should run a reliable malware scanner on your PC to find all possible threat sources after you delete Searchprotector.net from your browsers.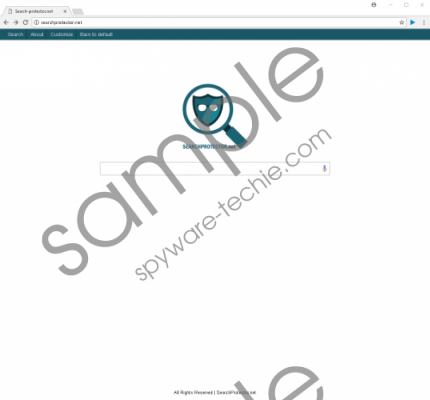 Searchprotector.net screenshot
Scroll down for full removal instructions
This search engine seems absolutely innocent when you first see it. This is why you may not even have doubts about it and leave it in your browsers. We believe though that it should always raise the red flag when you find such a search page in your browsers and you do not recall install it or any other extension or application for that matter. This search engine can show up in your major browsers, including your Internet Explorer, Mozilla Firefox, and Google Chrome as well. It has a toolbar at the top of the page that hosts four buttons (Search, About, Customize, and Back to default). At first sight, you may believe that this search page does not have legal documents shared (EULA and Privacy Policy) because you cannot find these at the usual spot, at the bottom of the page. However, these are actually disclosed in the About menu. It is always worth reading these documents to understand about the third-party policy, what kind of questionable content you could be exposed to, what kind of information this service may collect about you, and how this information may be used. This search engine is supposed to redirect you to manipulated Yahoo search results pages that could include questionable third-party commercial ads promoting affiliates and links as well with the same nature. It is always risky to click on such content because you could open websites in new tabs or windows that are run by cyber criminals. This is how a lot of the online scams actually happen, not to mention that you can also directly infect your computer with malicious programs this way. Although it seems that this search engine is down for the time being, we advise you to remove Searchprotector.net as soon as you can.
Our research shows that it is possible that this search engine may be quite intrusive and persistent, which means that the Target line of you browser shortcuts could be modified. It is important that you check these properties before moving on to resetting your affected browsers. Please use our guide below if you want to take matters into your own hands. However, if you want to protect your PC properly, we suggest that you download and install a decent malware removal program, such as SpyHunter. Such a security tool can automatically detect and eliminate all known malicious and potential threats.
How to restore the Target lines
Right-click on your browser shortcut on your desktop.
Choose Properties and then, go to the General tab.
Check that the Read-only checkbox is not ticked.
Move on to the Shortcut tab.
Remove all extra characters in your Target line after your browser location and click OK.
Right-click on the shortcut on your Taskbar to bring up the menu.
Right-click on the browser name option at the bottom.
Repeat steps 2 to 5 to restore the Target line.
Searchprotector.net removal from your browsers
Internet Explorer
Press Alt+T and select Internet Options.
On the Advanced tab, click Reset.
Mark the Delete personal settings checkbox.
Press Reset and click Close.
Mozilla Firefox
Press Alt+H and choose Troubleshooting Information.
Press Refresh Firefox and click Refresh Firefox in the confirmation window.
Google Chrome
Press Alt+F and select Settings.
Scroll down and click Advanced.
Scroll down and click Reset.
In the confirmation window, click Reset.
In non-techie terms:
Searchprotector.net is a questionable search engine that can appear in your major browsers uninvitedly, i.e., without your permission or knowledge. When you see this search engine as your home page, new tab page, and default search provider, it is quite likely that you will find a browser hijacker on board as well as a number of other malware infections and potentially unwanted applications. So its presence can be a sign of multiple system security threats and exposure to potentially risky third-party web content. As a matter of fact, our researchers have found that this search engine does not seem to work at the moment. Still, we think that it is important that you remove Searchprotector.net as soon as possible. If you want to feel safe using your computer, we suggest that you start using a professional anti-malware program to protect your PC.