Do you know what Searchpig.net is?
Searchpig.net is a fake search engine that can definitely considered to be a browser hijacker, because by no means does this website provide you with a proper search service. If you try using this search engine, you will end up with irrelevant search results no matter which keywords you will search for. What is more, a number of websites on the search results list will be corrupted or inaccessible. It means that using Searchpig.net as your search engine can result in your getting infected with dangerous malware threats.
If you find yourself being redirect to Searchpig.net all the time, scan your system with SpyHuner free scanner in search for a browser hijacker. Do not hesitate to acquire a reliable antimalware tool that will protect your system from unwanted infections. Thus, if Searchpig.net gets set as your home page and your default search engine, it means that something is definitely wrong with your PC, and you have to scan it immediately.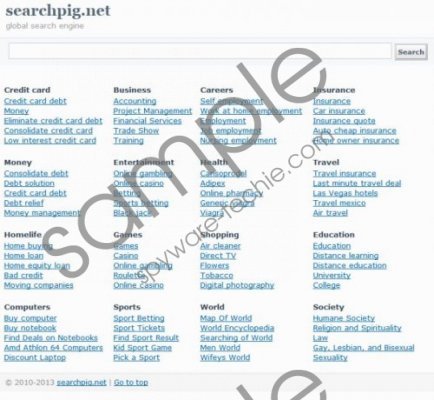 Searchpig.net screenshot
Scroll down for full removal instructions
Although Searchpig.net does nothing but provide fake search results, you have to be careful about this website. Such pages can easily be misused by malevolent third parties, and in the end, they could function as malware distributors. What is more, with Searchpig.net installed on your computer, you may experience serious onslaughts of pop-up advertisements that can also be responsible for malware distribution.
To take everything into account, Searchpig.net simply spells trouble and you need to remove from your system immediately. To restore your browser settings manually, follow the instructions below.
How to reset browser settings
Internet Explorer
Press Alt+X and go to Internet Options.
Open Advanced tab and click Reset.
Mark Delete personal settings and press Reset again.
When the reset is complete, click Close and OK.
Mozilla Firefox
Press Firefox button and select Help.
Click Troubleshooting information.
Press Reset Firefox on another tab.
Click Reset Firefox again and click Finish when the reset is complete.
Google Chrome
Press Alt+F and go to Tools.
Click Extensions and remove unnecessary extensions from the list.
Click Settings on the left.
Select Open a page or list of pages and click Set pages.
Change your home page and press OK.
Select Manage search engines under Search.
Set a new default search engine and remove Searchpig.net.
Click Done and restart the browser.
However, resetting your browser may not be enough to get rid of Searchpig.net for good, so do scan your system with SpyHunter free scanner, and check whether you have anything else left to worry about.
In non-techie terms:
Searchpig.net is a fake search engine that may redirect you to malicious websites. If Searchpig.net is set as your home page address, restore your default browser settings immediately and scan your computer for possible malware infections.
Aliases: