Do you know what Searchopa.com is?
Searchopa.com may turn up in your browsers after you install questionable extensions. Users mainly complain about Google Chrome but it is possible that this bad search engine affects other major browsers as well, including Internet Explorer and Mozilla Firefox. Our researchers warn you not to engage with any content coming from or through this search engine because you may be introduced to unreliable content that could be a gateway to cyber criminals. In order to eliminate this risk source, you should remove Searchopa.com immediately. Since it is possible that there are potentially harmful browser extensions and applications as well on board, we suggest that you make sure to tackle all threats before it is too late.
Our research shows that this search engine is getting more and more popular in Brazil, Spain, France, and Italy. But it does not necessarily mean that you are safe from it if you are not from any of these countries. According to our researchers, the most likely way for you to encounter this risky search engine is to install questionable browser extensions or add-ons that may have the capability to redirect you to Searchopa.com among other questionable pages or search engines. It is possible to download such applications even realizing doing so. Such potentially unwanted tools can be included in freeware bundles, for instance, and not necessarily downloaded from official sites, which is quite rare actually. These bundles however can contain a number of malware infections and promoted on suspicious websites, including gaming, dating, torrent, and freeware pages.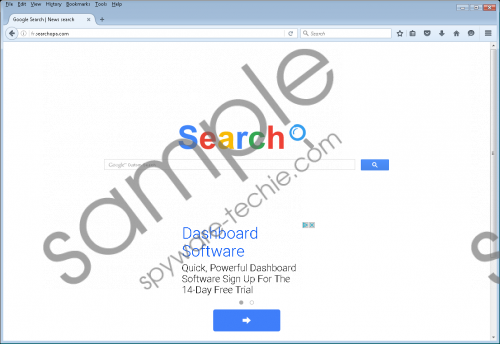 Searchopa.com screenshot
Scroll down for full removal instructions
If you have visited such sites lately, there is a good chance that you got infected with this search engine during the installation of a software bundle that you downloaded. Many users make the mistake of overlooking the most important page in the installation wizard where they actually have an opportunity to opt out of unwanted changes to their system or browsers. Most likely you skipped this step too and did not even realize the ticked checkboxes. These are obviously ticked by default so that all the content gets installed unless the user wishes otherwise. In all fairness, these installers are quite tricky and misleading to make sure that – if possible – you miss these checkboxes. Since there is a chance that there are other malicious programs on your system, we advise you to scan your system with reliable online malware scanner after you delete Searchopa.com.
This search engine can show up in your browsers in a few different ways as it can change its domain name, including fr.searchopa.com, brazil.searchopa.com, and new.searchopa.com. On the main page of this search engine, you can find a third-party banner ad below the search box. You should stay away from this ad because at times it could be quite misleading. It is possible that you find fake system error messages or software update promotions. But, if you click on these ads, you may be taken to potentially unsafe websites. Similarly, we do not recommend that you use the web search utility either. This search page can alter the results to include promoted third-party ads and links. This is a tricky search page, though, because it resembles Google a lot. In fact, it poses as a customized Google search engine and redirects your searches to a custom Google results page. This may confuse you and you may think that all content is trustworthy and therefore safe to click on. We beg to differ. As a matter of fact, this search engine can be misused by crooks, who may embed their own links and ads in order to lure you onto their malicious websites. Clicking on such content could land you on fake and harmful webpages. That is why we recommend that you remove Searchopa.com as soon as possible.
The easiest way to say goodbye to this annoying search engine is to reset all affected browsers. We have included instructions for the three main browsers just in case you discover Searchopa.com in them. Please follow these instructions to make sure that all undesirable browser setting changes become undone. Since there may be other harmful extensions and applications on your system, you should address them right now until they cause more security-related issues. If you do not want to detect and eliminate all of these manually, we suggest that you download and install a trustworthy anti-malware program, such as SpyHunter. Of course, the choice is yours. You can find all kinds of security tools on the web; however, beware of rogue applications. Before downloading any programs, you should run a web search first.
How to remove Searchopa.com from browsers
Google Chrome
Tap Alt+F and go to Settings.
Scroll down and click Show advanced settings.
Scroll down and click Reset settings.
Click Reset.
Mozilla Firefox
Tap Alt+H and open Troubleshooting Information.
Click Refresh Firefox.
In the pop-up window, click Refresh Firefox.
Press Finish.
Internet Explorer
Tap Alt+T and select Internet Options.
Choose the Advanced tab and click Reset.
Tick Delete personal settings and press Reset.
Click Close.
In non-techie terms:
Searchopa.com is an uninvited guest in your browsers. This questionable search engine may show up in your browsers after you install unreliable extensions or add-ons and these redirect you to this potentially harmful search page. You need to be very careful if you land on this page because it displays questionable third-party ads. Furthermore, this search engine poses as a customized Google search engine; however, when you run a web search, you may end up on a modified Google results page. This means that this questionable search engine may integrate affiliated website ads and links into the normal results. This can lead to security issues as you may get redirected to malicious websites if you click on potentially unreliable content. This is why we suggest that you remove Searchopa.com immediately. If you do not want to take care of this manually, you should use a trustworthy anti-malware application that will also protect your PC from future attacks.