Do you know what Searchnewtab.com is?
Searchnewtab.com is a search provider, but providing useful search results is the last thing that this tool is useful for. According to our research, this search tool could be set as the default New Tab page without permission, which makes it a browser hijacker. Most users let this hijacker in without realizing it along with DownloadBoss, a Chrome extension that promises to manage downloads. Considering that this browser extension does not even mention the suspicious search provider, we think it is suitable to identify Searchnewtab.com as a browser hijacker. As you probably realize already, this search tool deserves removal, and the sooner you get rid of it the better. Learn how to delete Searchnewtab.com by reading this comprehensive report.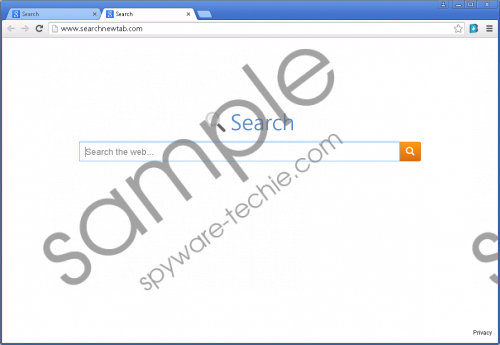 Searchnewtab.com screenshot
Scroll down for full removal instructions
Chrome users can download the suspicious DownloadBoss – together with Searchnewtab.com – from its official website, getdownloadboss.com, or Chrome web store. When installing this program, you should be warned that this browser extension can read and change the data on the sites you visit, which is quite suspicious. The Privacy Policy related to this extension indicates that "more relevant advertising messages" will be shown to you, and it is possible that the hijacker will remove the original ads found on the websites you visit to show its own suspicious offers. Advertisements could be shown via getdownloadboss.com as well. In fact, this search tool is likely to showcase more sponsored links than original search results, which is a good reason to remove it from your browsers. Of course, DownloadBoss by Discover Browser Media is not the only program that could open a backdoor for Searchnewtab.com. Our research team has found that other third-party programs could be bundled with this silent hijacker. Use a malware scanner to find if malicious software was installed along with this hijacker.
If you find malware, you need to eliminate it from your operating system as soon as you can. If you are not quick to remove malicious programs, they could take over your PC and your virtual accounts, download malware, destroy your personal files, etc. Install a legitimate malware remover to delete these third-party infections and protect your operating system in the future. When it comes to the removal of Searchnewtab.com, you might have to reset your browsers. If Searchnewtab.com was installed along with DownloadBoss, this hijacker will be disabled as soon as you delete this add-on.
Delete Searchnewtab.com
Delete from Internet Explorer
Simultaneously tap Alt+T.
Select Internet options and move to the Advanced tab.
Click Reset and restart IE.
Delete from Mozilla Firefox
Simultaneously tap Alt+H.
Select Troubleshooting Information.
Click Refresh Firefox and restart Firefox.
Delete from Google Chrome
Simultaneously tap Alt+T.
Select Settings and click Show advanced settings.
Click Reset settings and restart Chrome.
In non-techie terms:
Although Searchnewtab.com resembles a regular search provider, you would be making a mistake by trusting it. This search provider is most likely to be used for the representation of third-party ads, and they could route you to unreliable sites. If you interact with these ads showcased by this hijacker, third-party web cookies could be let in as well, and they could be used to leak information about your virtual activity. If you wish to remove Searchnewtab.com, it is best to reset your browsers, as shown in the instructions above. If you find that malicious programs have paralyzed your PC, check the instructions below; they will help you install an automated malware remover.