Do you know what Searchmaster.net is?
According to our malware analysts, Searchmaster.net not a typical search engine, but a browser hijacker, so you ought to remove it. Its developers distribute it through malicious channels, so it can hijack your computer secretly. Its job is to replace your web browser's homepage address so that you could see its search box each time you open your browser. If you use it as a regular search engine, then you should know that its search results feature promotional links and ads that can be of no interest to you but, more importantly, they can come from unknown sources and, thus, they can pose a threat to your computer. To find out more about it, please read this whole description.
Since this particular browser hijacker is relatively new, we do not have information on how it is disseminated. However, our malware analysts say that, like most hijackers, it should be distributed via bundled software installers. These installers are featured on sites that distribute freeware, so you this hijacker might infect your PC when you download a software bundle. Researchers say that this hijacker was classified as such a because they have received reports that the installers to now allow users to deselect its installation so, in effect, the malicious installers impose it on your browser.
As far as we can tell, the developers distribute Searchmaster.net without a browser extension. So it relies on the installers to automatically inject them into the web browsers. Researchers say that the installers should interact with Google Chrome, Mozilla Firefox and Microsoft Internet Explorer. Research has shown that Searchmaster.net is popular in Germany in particular as Germany-based users make up 28.2 % of all users as of April 2017. Spain is not too far behind with 24.3 %, as well as the Netherlands with 18.1 % of all visits. As you can see, this hijacker is quite popular in Western Europe this may indicate that the websites that distribute it are based in Europe or at least are quite popular there. It is also worthy of a note that Searchmaster.net is hosted on the same server as Super-search.org, Euro-search.net, and Mysupersearch.net which are also browser hijackers. All of them might come from the same developer.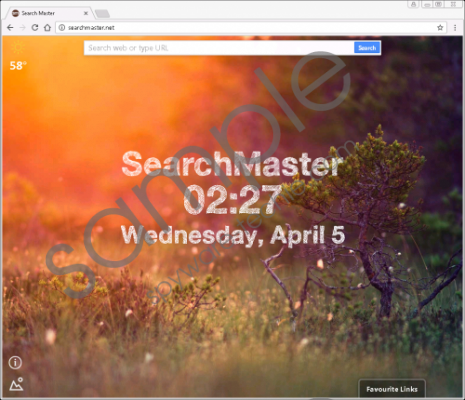 Searchmaster.net screenshot
Scroll down for full removal instructions
If Searchmaster.net replaces your browser's homepage, then you should know that it redirects all entered search queries to a modified Yahoo search engine because this hijacker does not have its own search algorithm. Researchers say that all of the web traffic is funneled through Partnerads.ysm.yahoo.com. As a result, Searchmaster.net will display search results with additional commercial links. While there is no indication that the links pose a threat to your computer's security, we think that it would be wise not to use this hijacker for searching the web in the first place to avoid unwanted ads. However, it seems that this hijacker is getting popular as more and more browsers get infected with it, we want to raise awareness and let everybody know that this search engine cannot be trusted.
Browser hijackers are quite common these days as they are relatively easy to set up and they bring tangible results in the form of money as all of them are configured to feature links in the search results that generate revenue per click. Therefore, there is no wonder why browser hijacker developers make so many of them. However, they are undesirable due to the fact that they hijack the homepages and show ads that come from unknown entities. Searchmaster.net is no exception, so we recommend that you remove it ASAP.
How to remove this browser hijacker
Google Chrome
Hold down Alt+F keys.
Select Settings.
Click Set pages and erase this hijacker's URL.
Enter a URL.
Click OK.
Mozilla Firefox
Hold down Alt+T and click Options.
Select General.
In the Home Page box, erase this hijacker's URL.
Enter a new URL.
Exit the Options menu.
Microsoft Internet Explorer
Hold down Alt+T keys.
Select Internet Options.
Erase this hijacker's URL.
Enter a new URL in the home page address line.
Click OK.
In non-techie terms:
If you got Searchmaster.net as your browser's homepage, then you should consider replacing it because it is a browser hijacker that replaced your default homepage address secretly so that it could subject you to ad-supported search results. Unfortunately, you cannot trust its ads. Considering that is replaces the homepage address by force and shows questionable ads, we recommend that you remove this malicious search engine.