Do you know what Searchinworld.biz is?
Searchinworld.biz hijacks your Google Chrome browser and modifies its settings so that you would have no other choice but to use it as your search engine. Although we would advise you against using it, since the application is classified as a browser hijacker. It is possible that while you search the Internet, the Searchinworld.biz will collect various types of information related to you. Also, it might show you sponsored ads, which could advertise unreliable software. That is why you should remove the browser hijacker from your system and scan it with a trustworthy antimalware tool. Do not worry, as we will provide you with more information and simple deletion instructions below the text.
The biggest problem with the search engine is that it does not offer the information, which would describe their policy towards privacy issues. We have no doubt that like most of the browser hijackers, this one will gather non-personal data for sure, which could be the list of used search keywords, clicked ads, visited websites, etc. However, there is a chance that your personal or sensitive information could be gathered too, which might include your name, email, phone number, various account passwords, credit card PIN, and so on. Afterward, such data might be used to scam you and extort money from you. Information like this could be gathered while using various technologies or third-party services. For instance, it could be recorded during the time you are purchasing anything from a third-party e-shop, which might have appeared in search results. Clearly, it is difficult to distinguish suspicious ads from the reliable ones. Nevertheless, always keep in mind that none of the legitimate software changes any setting without asking and if some application acts like that you should avoid any displayed content until you learn more about the program.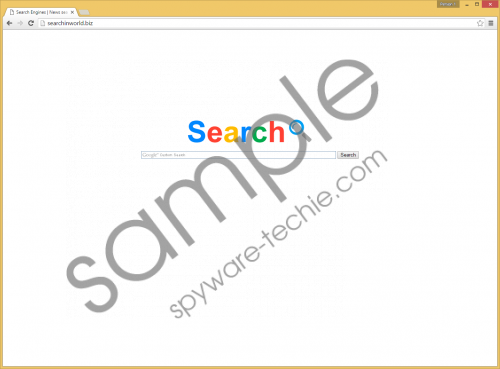 Searchinworld.biz screenshot
Scroll down for full removal instructions
Usually, the non-personal information is recorded to learn about your interests and browsing pattern. This knowledge is used to decide what ads would look compelling to you and which ones should be displayed in the search results. For example, if you would look for an application with particular functions, it could show you an adware or potentially unwanted program (PUP) that would claim to have similar features. The arguments and descriptions on the unwanted software's website are always very convincing, so you could easily install these suspicious programs while thinking they are completely harmless.
The search engine could be attached to other software installers, so you might have downloaded Searchinworld.biz with PUPs or any other freeware that is promoted on questionable file-sharing sites. The problem is that you can see these bundled applications only after you launch the installer and the setup wizard appears. Unfortunately, users tend to overlook these suggestions as they hastily move through the installation process by clicking any buttons just to get it over with. As a consequence, they allow unwanted software to enter their systems. When the browser hijacker is installed, it should affect Google Chrome, so the next time you open the browser you will see Searchinworld.biz instead of your homepage and search engine. Although, if you do have other browsers on your computer, you could use them until you remove the application from Google Chrome.
All things considered, you should secure your system and delete this browser hijacker before something bad happens. Luckily, it works only in one browser, so it will not be that hard to get rid of it. In brief, you will have to locate Google Chrome Preferences, Secure Preferences, Web Data files, and erase them. If you do not know where to find these records, you can follow our recommended removal steps available below the article. Also, it is advisable to install a legitimate security tool and run a full system scan with it. This way you could save your time and remove the browser hijacker with the other possible threats automatically.
How to delete Searchinworld.biz
Open the Explorer window.
Copy and insert this location %LocalAppData%\Google\Chrome\User Data\Default into Explorer and click Enter.
Find the listed files: Preferences, Secure Preferences, and Web Data.
Right-click on them separately and select Delete.
In non-techie terms:
Searchinworld.biz is an unreliable search engine that could present you with suspicious ads and links. Furthermore, it might invade your privacy and collect your sensitive information that could be used for cyber fraud. Therefore, the best course of action would be to delete the browser hijacker and scan your system with a trustworthy security tool. In addition, it could help you avoid such useless software or even malware from here on.