Do you know what Searchinterneat-a.akamaihd.net is?
Searchinterneat-a.akamaihd.net can enter your computer without your knowledge and hijack your browsers. If you have been bombarded by third-party ads and noticed some unfamiliar search engines as your new home page, your computer may have been infected with not just a browser hijacker, but most likely with an adware program as well. That is why the presence of this search engine is a multiple risk for your virtual security. Keeping it on your computer could cause you several issues. Therefore, we advise you to delete Searchinterneat-a.akamaihd.net from your browsers and take care of all the related malware infections as well.
Our researchers have tested this browser hijacker in our internal lab and found that it infects computers together with an adware application called Results Hub. That is why it is most likely that you are experiencing third-party ads here and there when you are surfing the net. Once this hijacker slithers onto your PC, it makes arbitrary changes to your browser settings, such as your home page and default search engine. However, you will not see Searchinterneat-a.akamaihd.net in your browsers because it applies redirections. We have noticed that these redirections may be based on your location, most probably your country. So depending on that, you can see either yahoo.com, home.searchpile.com, www.fluey.com, or other third-party search engines. But do not trust these because the search results they display might be altered by this hijacker.
Searchinterneat-a.akamaihd.net generates income for its developers by promoting affiliated websites and redirecting traffic to those sites. But if you click on any corrupted links or ads, you might end up on infected websites and cause more security issues for your computer. It is also possible to get scammed by criminals, if you are that unlucky or careless. You need to remove Searchinterneat-a.akamaihd.net if you do not want this kind of exposure to happen.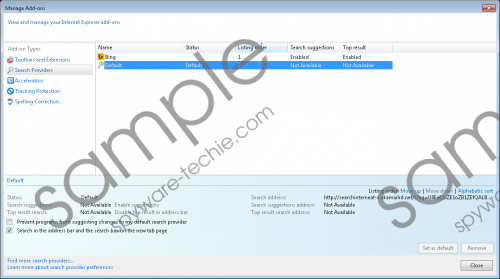 Searchinterneat-a.akamaihd.net screenshot
Scroll down for full removal instructions
There is a good chance that you have been hunting for free programs recently and that is how you downloaded the package in which these malware infections traveled. It is quite easy to get infected if you visit suspicious file-sharing websites and you happen to click on fake buttons or third-party ads. But, if you let the whole bundle land on your machine, you will have to run a system scan after deleting Searchinterneat-a.akamaihd.net because it is important to see how many other infections may be there. What a lot of users forget or do not realize is that they can actually deselect certain additional contents of the package that they do not want to install. Either you will be offered designated checkboxes in the installation wizard or you will have to choose the Custom installation option to reveal the details of the bundle.
If you want to protect your computer, now is the time to step up. We advise you to first uninstall Results Hub and then, reset your browsers so that you remove Searchinterneat-a.akamaihd.net entirely. Please follow our instructions below if you do not feel confident about the necessary steps. Since it is possible that there are other infections as well on-board, we suggest that you use a reputable antimalware program to eliminate all threats and safeguard your PC.
Remove Results Hub from Windows
Windows XP
Press Start and go to Control Panel.
Access Add or Remove Programs.
Select the unwanted program and press Remove.
Windows Vista/Windows 7
Press Win+R and type in Control Panel. Click OK.
Open Uninstall a program.
Select the unwanted program and press Uninstall.
Windows 8/Windows 8.1/Windows 10
Press Win+X and open Programs and Features.
Select the unwanted program and press Uninstall.
Remove Searchinterneat-a.akamaihd.net
Mozilla Firefox
Tap Alt+H and go to Troubleshooting Information.
Click Refresh Firefox.
Click Refresh Firefox again and press Finish.
Google Chrome
Tap Alt+F and go to Settings.
Click Show advanced settings at the bottom of the page.
Scroll down and press Reset settings.
Press Reset in the confirmation window.
Internet Explorer
Tap Alt+T and choose Internet Options.
On the Advanced tab, press Reset.
Select the Delete personal settings checkbox and click Reset.
Press Close.
In non-techie terms:
Searchinterneat-a.akamaihd.net is a browser hijacker that does not respect your privacy and changes your browser settings arbitrarily. What's more, it may put your system's security at risk by displaying unreliable links and ads through the third-party search providers it redirects to. Since it seems to come with an adware program, this can also present to you more potential to end up on malicious websites. Therefore, we advise you to act now and remove Searchinterneat-a.akamaihd.net from your computer together with any other related malware infections.