Do you know what SearchInMe.com is?
Google Chrome, Internet Explorer, and Firefox users need to be careful when they are offered to install a search tool called SearchInMe.com. Although this search provider looks completely normal, it is quite suspicious and questionable. For one, it works in a completely unpredictable manner. Second, it might enter bundled with unreliable programs. Therefore, if you are introduced to this search tool, we suggest you think cautiously about whether you should get involved at all. We are sure that you can find a much more reliable and beneficial search engine than this one. If you have already installed it, and now you do not know how to replace it, this guide is for you. Here, we explain why you should consider deleting SearchInMe.com from your browsers manually. If you have any questions about the information provided via this report, you can start a discussion in the comments section below, and we will assist you as soon as we can.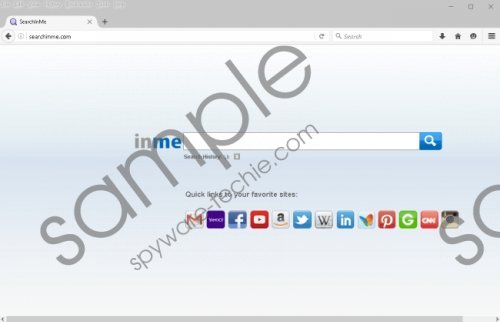 SearchInMe.com screenshot
Scroll down for full removal instructions
Has Ghokswa Browser entered your operating system? This potentially unwanted program can hijack your Google Chrome browser by modifying the Target path. This is just one of the many suspicious programs that could come bundled with SearchInMe.com. This search tool is usually spread by third-party installers that might distribute all kinds of suspicious programs, including PUPs and adware. Truly malicious installers could also spread Trojans, malicious tracking cookies, keyloggers, and other dangerous infections. Unfortunately, malicious installers exist, and they might look just like the harmless installers that you trust to install legitimate software. Our team advises installing a malware scanner ASAP to examine the PC and warn you if malware exists. Do not be surprised if the scanner rushes you to remove SearchInMe.com as well because this tool is usually recognized as an unreliable search provider that deserves removal.
The interface of SearchInMe.com is quite misleading. At first sight, it looks like a search provider, but, in reality, it does not work like one. The search box in the middle accepts your search queries, but they are redirected to a different search provider, google.com/search. Google Search is one of the most popular search tools in the world, and there is no doubt that computer users will trust it. Luckily, SearchInMe.com does not modify the search results shown to you via this search engine. Unfortunately, it is unknown if the tool cannot track your browsing activity and leak the information to unknown third parties. We would fall back on legal information to confirm or deny this; however, this information simply does not exist, and this is a huge red flag. We also cannot confirm whether or not this search tool employs tracking cookies or if it enables the installation of third-party tracking cookies.
Is SearchInMe.com suspicious? It really is, and this is why we recommend removing it as soon as possible. Have you replaced the homepage and the default search provider tools already? Since most users know how to do that, it is not surprising that most start with this step. If you do, you should also take care of the web cookies. Open the browser, tap the Ctrl+Shift+Del shortcut, and clear the desired data. You can also reset your browsers, after which, you might need to set the desired homepage and search provider tools. Another option you have is installing automated malware detection and removal software, and we suggest this option because it can ensure the elimination of existing threats and further protection of the operating system.
Delete SearchInMe.com from browsers
Internet Explorer
Launch IE.
Simultaneously tap Alt+T.
Select Internet options.
Click the Advanced tab.
Click Reset.
Mark Delete personal settings.
Click Reset.
Restart IE.
Google Chrome
Launch Chrome.
Simultaneously tap Alt+F.
Select Settings.
Click Show advanced settings (at the bottom).
Click Reset settings (at the bottom).
Click Reset.
Restart Chrome.
Mozilla Firefox
Launch Firefox.
Tap Alt+H.
Select Troubleshooting Information.
Click Refresh Firefox.
Click Refresh Firefox again.
Restart Firefox.
In non-techie terms:
We recommend resetting browsers to remove SearchInMe.com because it does not offer great services. Instead of working as a search provider that it appears to be, it redirects you to Google Search. Luckily, the results are not adjusted to include sponsored content. Nonetheless, you should never use mediators to access legitimate, reliable search tools, and, in this case, the mediator that requires removal is SearchInMe.com. If a full system scan reveals other threats, we advise quickly installing an anti-malware tool to have all threats erased from your PC automatically. Use the comments section below to add any questions that were left unanswered.