Do you know what Searchiksa.com is?
Searchiksa.com may seem like a legitimate search page; however, its resemblance to Google does not mean that you can trust the search results. As a matter of fact, our researchers have found that this threat is simply a new browser hijacker that can show up as your home page in your Mozilla Firefox, Google Chrome, and Internet Explorer browsers. Many users do not understand the potential risks that come with such a hijacker. Just because it may look innocent, it does not mean it cannot cause harm to your system security. In fact, you could be introduced to unreliable third-party content if you use this search engine. But there are other issues, too, regarding its presence on your computer. We advise you to remove Searchiksa.com as soon as possible if you do not want more infections to sneak onto your system or to fall for a vicious online scam. Please continue reading our report for further details on this browser hijacker.
In order for you to become infected with this malware, you need to click on corrupt third-party content. This can happen when your system is already infected with malware programs, such as adware apps and browser hijackers. These infections can display unreliable third-party commercial ads and links in your browser. Clicking on these can easily result in installing this hijacker or dropping a whole bundle of malware infections onto your system. Another way to infect your PC is to visit questionable gaming, pornographic, torrent, and shareware pages, and click on unreliable content there. These sites are usually packed with third-party ads. Sometimes you cannot even tell if a content is part of the main site or just some third-party ad. For example, such ads may look like a system notification, a download button, a warning that your system needs update, and so on.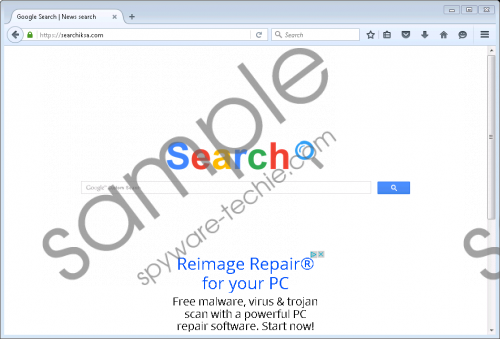 Searchiksa.com screenshot
Scroll down for full removal instructions
It is also possible that you do not even see that there is anything underneath the mouse cursor when you accidentally click on the page and suddenly you get redirected to another webpage. This is why it is so important that you keep away from such suspicious websites and only download applications from official sources. Because when you infect your computer with bundled threats, you will have to do more than just remove Searchiksa.com from your browsers; you will also have to tackle all other threats that may be endangering your privacy and your virtual security.
This search page should be suspicious because it has a third-party ad right below its search box on its main page. This ad could be unreliable, which means that you could be redirected to malicious websites if you clicked on it. However, this is only one source of undesirable issues. Unfortunately, you cannot trust its search results either. This browser hijacker may collect information about your browsing habits and use this to display customized ads and links. This becomes quite dangerous when these ads and links come from unreliable third parties, including cyber criminals. Although you are shown a customized Google search results page, this should not confuse you. It would be a mistake to take the results for granted and trust them fully. If you do not want to end up on malicious websites or reveal your banking details in a fake online shop, you should not hesitate to delete Searchiksa.com.
Finally, let us help you with your attempt to clean this hijacker from your browsers. We have found that you can simply reset your browsers to get rid of this annoying search page. Please keep in mind that by resetting your browsers you may lose all your preferences and downloaded extensions as your browsers will be set to default. You can use our instructions below if you do not know how to do this. But do not forget the possibility that there may be other threats as well. If you do not want to go after them manually, you can chose to install a professional anti-malware application to do all this job for you and more. With a regularly updated security tool you could have full protection against all kinds of malware attacks; and that is what we would call peace of mind.
Searchiksa.com removal from browsers
Internet Explorer
Tap Alt+T and go to Internet Options.
Choose the Advanced tab, click Reset.
Select the Delete personal settings checkbox.
Click Reset and click Close.
Mozilla Firefox
Tap Alt+H and open Troubleshooting Information.
Press Refresh Firefox
Click Refresh Firefox in the confirmation window.
Click Finish.
Google Chrome
Tap Alt+F and access Settings.
Scroll down and click Show advanced settings.
Scroll down again and click Reset settings.
Click Reset in the pop-up window.
In non-techie terms:
Searchiksa.com is a new questionable search engine that can show up in all major browsers. In fact, our researchers have categorized this infection as a browser hijacker since it is capable of modifying your browser settings. Although this search page may look totally like Google, you should know that this is a customized Google page. This means that this hijacker can modify the search results by including the advertisements and links of its affiliates. Since these third parties are not always reliable, you could click on content that may redirect you to malicious websites or you might also drop infections onto your system. This browser hijacker can also enter your computer along with other malware infections; thus, its presence indicates multiple security threats. Therefore, we suggest that you remove Searchiksa.com right now. If you do not want to do this manually, you can use a reliable malware removal tool, which will also defend your virtual world automatically from all known threats.