Do you know what Searchgosearch.com is?
You may not know this, but Searchgosearch.com is not a legitimate search engine. Our malware analysts have found that it is distributed in a malicious manner and, therefore, recommend that you remove it. Apart from entering your browser via deceptive methods, it also collects information about you and uses this information to subject you to ad-supported search results that can subject you to malware downloads and scam sites. Therefore, trusting this search engine to deliver you legitimate, safe search results is wishful thinking. It is clear as day that this search engine is dedicated to making money for its developers — not delivering you a useful service.
Searchgosearch.com was created by a company called Clever App, S.L. This company allegedly based in Madrid, Spain, but there is no way to very this, so the location of the company can be fake. We did not find any other releases by this company, so we assume that Searchgosearch.com is its first release. We think that this company is untrustworthy due to the fact that it distributes this search engine via malicious channels.
Researchers say that this browser hijacker does not have an accompanying browser extension, but is distributed using bundled software installers. They say that bundled software installers were configured to interact with your browser while installing the primary software and inject this hijacker secretly. Researchers say that the bundled installers are featured on freeware hosting websites that include Descargar.es, Filewin.com, Filewon.com, Malavida.es. The bundled installers featured on these websites are known to install Searchgosearch.com on your PC by stealth, so you should avoid visiting these sites.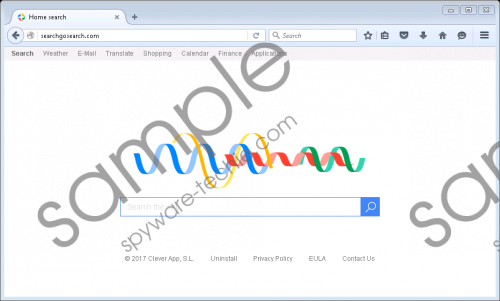 Searchgosearch.com screenshot
Scroll down for full removal instructions
Malware researchers say that the bundled installers were configured to replace your browser's homepage address if you use Google Chrome, Mozilla Firefox or Microsoft Internet Explorer. As a result, it hijacks your browser's homepage page in an effort to make you use it for searching the web. This search engine is all about making a profit, and it does that by showing you ad-supported search results. However, there is no guarantee that the promoted links that you see are safe. The privacy policy of this hijacker states that "Clever App, S.L. may revise these terms of service for its website at any time without notice." Hence, there is no guarantee that you will get quality search results.
Furthermore, this hijacker is set to collect information about you. According to the privacy policy "We will collect personal information by lawful and fair means and, where appropriate, with the knowledge or consent of the individual concerned." So it seems that this hijacker's developers can obtain personal information about you. The policy goes on to state that the collected information is used "for fulfilling those purposes specified by us and for other ancillary purposes, unless we obtain the consent of the individual concerned or as required by law." This information is collected for improving the services offered by this hijacker with can include customizing ads to make more money. Therefore, we recommend that you get rid of this malicious search engine as soon as the opportunity arises.
In summary, Searchgosearch.com looks like it is a legitimate search engine that somewhat resembles Google. However, its primary objective is to hijack your browser and change its homepage to make you use it. Its search results are bound to feature promoted links that can, potentially, redirect you to malicious websites. Therefore, if you value your cyber security, then you ought to remove this hijacker as soon as possible.
How to replace the homepage address
Mozilla Firefox
Open the browser.
Press Alt+T.
Click Options and select General.
Erase Searchgosearch.com and enter a new address.
Microsoft Internet Explorer
Open the browser.
Press Alt+T and click Internet Options.
Erase http://searchgosearch.com/
Enter a new URL.
Click OK.
Google Chrome
Open the browser.
Press Alt+F keys.
Select Settings.
Click Set pages.
Erase http://searchgosearch.com/
Enter a new URL
Click OK.
In non-techie terms:
Searchgosearch.com may look like just another search engine but the reality is that it is a browser hijacker that is dedicated to replacing your browser's homepage address to make you use it for searching the web and also subjecting you to promoted links of unconfirmed legitimacy. To stay on the safe side, we recommend that you remove it using the guide provided above.