Do you know what SearchFlyBar2 Toolbar is?
SearchFlyBar2 Toolbar is a well-known application which has been developed by Conduit. Unfortunately, the application is not known for its services. What has made the plugin so famous is the abundance of programs which come attached as soon as you click the download button on searchflybar2.ourtoolbar.com. During the installation of the browser add-on you have the option to choose Value Apps, TuneUp Utilities 2014, Tweeki and similar computer programs. Unfortunately, they are checked for automatic installation, which means that you have to un-check appropriate boxes manually to refuse these undesirable programs. As our research has revealed, computer users often do not pay enough attention to the installation process and so the undesirable programs appear to install without their knowledge. Please continue reading to learn how to remove SearchFlyBar2 Toolbar and whether the removal task is necessary.
Search.conduit.com and SearchFlyBar2 Customized Web Search are two search tools which come bundled with the suspicious plugin. We do not recommend that you use these tools to browse the web because they are likely to route you to unrelated sources (e.g. bing.com) and present you with search results which have nothing to do with your search queries. We also do not recommend that you use easy-access links provided by the toolbar to connect to Facebook, Twitter, Coupon Buddy, Apps4U, MochiGames, and other services because some of them could lead to an undesirable promotion or online advertisements. In fact, it would be best to delete SearchFlyBar2 Toolbar altogether because it is not more beneficial than any other reliable, authentic browser toolbar. Note that you may need to remove it from all existing browsers, even if you have downloaded it using Google Chrome, Mozilla Firefox or Internet Explorer browsers. The same goes for other Conduit plugins, including ZenDeals and Top 10 Toolbar.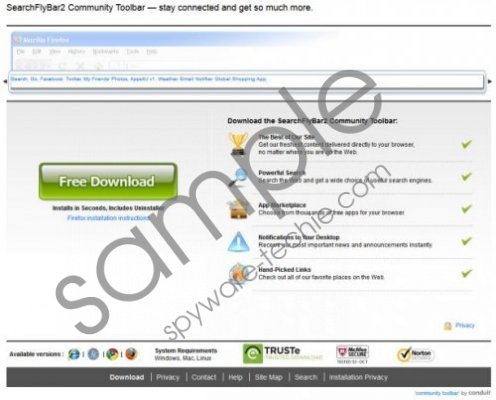 SearchFlyBar2 Toolbar screenshot
Scroll down for full removal instructions
Please follow the instructions below to have SearchFlyBar2 Toolbar removed from the computer. The first step will help you delete all of the undesirable programs from the system. Make sure you check the lists of existing PC applications to determine which ones to remove. The second step will help you change the home page and search provider settings which may have been modified during the installation of the toolbar. For further Windows protection – install authentic malware detection and removal software.
Step1: remove unwanted programs
Remove from Windows XP:
Open the Start menu and click Control Panel.
Move to Add or Remove Programs, click the undesirable application and select Remove.
Remove from Windows Vista and Windows 7:
Locate the Start icon on the Task Bar and click it.
Select Control Panel and go to Uninstall a program.
Right-click the application you wish to remove and select Uninstall.
Remove from Windows 8:
Right-click on the Metro UI start screen and select All apps.
Click Control Panel, move to Uninstall a program and right-click the undesirable program.
Select Uninstall to finish the removal.
Step 2: delete unwanted search tools
Delete from Mozilla Firefox:
Launch the browser, simultaneously tap Alt+T and select Options.
Click the General tab, change the Home Page URL and click OK.
Move to the search box, click the icon and select Manage Search Engines.
Remove the undesirable search provider and click OK.
Delete from Google Chrome:
Launch the browser, simultaneously tap Alt+F and select Settings.
Under On Startup click Set pages and change/remove the provided URL. Click OK.
Under Appearance click Change and overwrite the provided URL. Click OK.
Go to Search, select a new default search provider and click Manage search engines.
Click X on the URL of the undesirable search provider to remove it and hit OK.
Delete from Internet Explorer:
Launch the browser, simultaneously tap Alt+T and select Internet Options.
Click the General tab, delete/change the Home Page and click OK.
One more time tap Alt+T .
Select Manage Add-ons and from the menu on the left select Search Providers.
Remove the undesirable search provider and click Close.
In non-techie terms:
In other words, SearchFlyBar2 Toolbar is a browser plugin which can lead you to the installation of many undesirable computer programs. If you follow the removal instructions presented above you will get rid of the undesirable application and search tools in no time. However, if you wish to keep the system guarded against potentially malicious programs in the future – install authentic Windows security software.
Aliases: