Do you know what Searchfar.net is?
Searchfar.net is the kind of suspicious search engine that you should not be happy to find in your browsers as the new homepage. In fact, this engine can show up without your permission, which is why our researchers have categorized it as a browser hijacker. Just like most hijackers, Searchfar.net also uses software bundling as the main distribution method to spread over the web. This makes it even more dangerous since the bundles it travels in may be packed with several other malicious installers. One malware infection is just enough to pose as threat to your virtual security. Imagine this threat multiplied by each threat there may be on your system right now. Understanding the potential risks can help you protect your computer from severe damage. Please read our full report to see how you can remove Searchfar.net and how you can protect your PC from similar dangers.
According to our researchers, this browser hijacker cannot be downloaded as a standalone installer from any promotional websites. What is more likely instead is that you download it in a freeware bundle while visiting a questionable shareware or torrent site. These are the most common places for third-party bundles containing malware infections to be promoted. It is possible that the bundle includes a legitimate free program, which acts as a bait, but the other additional components will be useless and harmful adware programs, browser hijackers, or potentially unwanted programs. These are the most common threats in a software bundle. However, even if you download such a nightmarish package, you may still have an opportunity to opt out of certain components.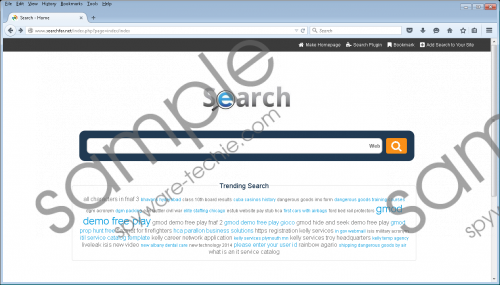 Searchfar.net screenshot
Scroll down for full removal instructions
All you need to do is read the steps of the installation wizard carefully. It may offer you checkboxes to untick if you do not want the additional changes or tools on your computer. It is also possible that these checkboxes will only be revealed if you go for the Custom or Advanced options. It may take a bit more time to install a package this way, but it is definitely worth it. You may also decide not to install it at all when seeing how many suspicious applications it wants to deliver onto your machine. If you let the whole bundle on board, you will have to eliminate all these threats after you remove Searchfar.net.
In reality, this search engine is probably one of the most useless ones you can find on the web. It is so, because it does not even bother to display a working search results page for you. All you will get is a "results not found" page. But it is still possible that this hijacker will introduce you to third-party advertisements or links; therefore, you should not keep it in your browsers. If you click on potentially unreliable third-party ads, you may land on corrupted websites, which may end badly for you. It is easy to get scammed by criminals who have sophisticated methods to fool you into believing that, for example, you are downloading an important update for your system when you are simply downloading malware. You should delete Searchfar.net if you want to avoid such scenarios.
This browser hijacker has no uninstaller, so it cannot be removed through Control Panel. In order to make sure that Searchfar.net disappears without a trace, you should reset your browsers. Please use our instructions below if you need help with that. Also, remember that you can protect your computer by keeping all your drivers and programs updated, including your browsers, of course. Cyber criminals can exploit older security bugs and gain access to your files and information unless you keep everything up-to-date. If you refrain from visiting unfamiliar or questionable websites, you can do even more for your system security. However, the best solution is always an automated malware removal tool that can provide your PC full-time protection from all known infections.
Searchfar.net removal from browsers
Internet Explorer
Tap Alt+T and go to Internet Options.
Click the Advanced tab and press Reset.
Select the Delete personal settings checkbox and press Reset.
Click Close.
Mozilla Firefox
Tap Alt+H and choose Troubleshooting Information.
Click Refresh Firefox.
Press Refresh Firefox in the pop-up window.
Press Finish.
Google Chrome
Tap Alt+F and choose Settings.
At the bottom, click Show advanced settings.
At the bottom, click Reset settings.
Press Reset in the pop-up.
In non-techie terms:
Searchfar.net is a worthless and potentially harmful search engine whose presence may indicate that your computer has been attacked by a browser hijacker. This search engine may pose a threat just by being in your browsers as it may expose you to unreliable web content. Another thing is that it does not even seem to work, which makes it completely useless and redundant. However, this hijacker may only be a part of your security problems. It is quite likely that there are other malware infections on board, which may have come with this hijacker. Therefore, it is important to remove Searchfar.net and all other threats as well.