Do you know what Searcheo.fr is?
Searcheo.fr looks like a search engine you can trust, but the first red flag for us is that it is hosted on the server that hosts many browser hijackers. Another red flag is that is uses a third-party search engine to display search results. The third red flag is that an official installer does not exist, despite the fact that uninstall instructions are introduced at info.searcheo.fr/questions-frequentes (the "questions and answers" page). This suggests that maybe third-party installers could be involved in the distribution of this search tool. Also, there is not a lot of information about it, and that is quite unnerving. Needless to say, we do not trust this search tool, and we strongly recommend removing it from your web browsers. If you are still not sure if you should delete Searcheo.fr, continue reading to learn all about this search tool.
The website that represents Searcheo.fr is http://info.searcheo.fr/. According to the information on this page, the search tool provides its users with customizable widgets via the home page, and it offers such services are free SMS messaging, free weather forecast, and free access to different radio stations. Of course, it is unlikely that you will get the chance to learn more about the search tool before you install it, and that is because you might be introduced to it by suspicious installers. Was the search tool offered along with many other unfamiliar and suspicious programs? If it was, did you research them as well? It is important that you do because you do not want to overlook malware. Even if you have not noticed any suspicious activity, the best move would be to install a good, reliable malware scanner.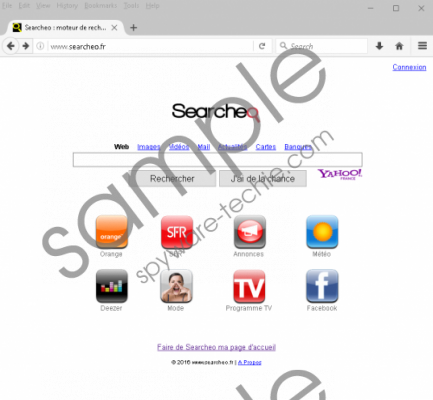 Searcheo.fr screenshot
Scroll down for full removal instructions
How does Searcheo.fr manifest on your PC? Did it corrupt the homepage? Maybe it modified the default search provider? Whatever changes it might have initiated, if they were initiated without your permission, you must categorize this search tool as a browser hijacker. Were the changes made with your permission? If they were, you have to see if the search tool has met your expectations. If you realize that the benefits that might have been used to lure you in were misleading, you probably realize already that it is best to remove Searcheo.fr. Overall, this search tool is quite useless, and if you want to browse the web using Yahoo Search, you might as well set it as your default search provider. You certainly do not need a suspicious mediator like this one. The good news is that the removal of this hijacker is very easy.
Our analysis has shown that most users will get rid of Searcheo.fr by resetting their browsers. Considering that the official uninstall guide mentions Internet Explorer and Mozilla Firefox browsers only, our guide shows how to reset these two browsers. Needless to say, we will add instructions for any other browsers if you need them. Just let us know via the comments section below. Before you get rid of the hijacker, we encourage you to scan your operating system. In case many other threats are detected, you should not waste any of your time. Instead of researching and deleting every single threat individually – which you might be able to do – we advise employing automated anti-malware software.
Delete Searcheo.fr from browsers
Internet Explorer
Open the browser, tap Alt+T, and choose Internet options.
Click the Advanced tab on the right.
Click Reset, select Delete personal settings, and click Reset again.
Restart your browser, tap Alt+T, and choose Internet options again.
Click the General tab, move to Home Page, and enter the desired URL.
Tap Alt+T one more time and choose Manage Add-ons.
Add/select the desired provider and click Set as default. Click Close.
Mozilla Firefox
Open the browser, tap Alt+H, and click Troubleshooting Information.
Click the Refresh Firefox button and then click it again to confirm.
Tap Alt+T again but select Options.
In the menu on the left click General.
Enter the URL of the desired startup page in the Home Page area.
In the menu on the left click Search.
Add/set the desired default search provider.
In non-techie terms:
Although Searcheo.fr looks normal at first sight, this search tool could be a dangerous browser hijacker. The first thing you should do when you discover it is to scan your operating system to make sure that more dangerous threats are not present. If your PC is free from malware, you can remove Searcheo.fr from your PC manually, but if other threats are detected, we strongly suggest using anti-malware software for automated removal. The guide below shows how to reset browsers and set the desired homepage and search provider tools. If you are having any problems with the elimination process, we will be glad to help. All you need to do is post a comment below with as much detail as possible.