Do you know what Searchengage.com is?
It is possible that you find Searchengage.com in your browsers as your new tab page and default search engine and you do not even recall installing this tool. Unfortunately, this search engine can appear in your browsers without your permission. Because of its capabilities, our researchers have labeled it as a browser hijacker. The fact that it can show up on your system without your consent and make changes to your browsers is practically a breach of your privacy, which should not be taken lightly. This is rather suspicious behavior and should be a big red flag when it comes to reliability. But apart from this you may also be introduced to manipulated and potentially harmful websites through its search results. Since this hijacker may have entered your PC along with other malware infections, your system security may be in danger. If you want to restore order on your computer, you should remove Searchengage.com and tackle all other potential threats as well.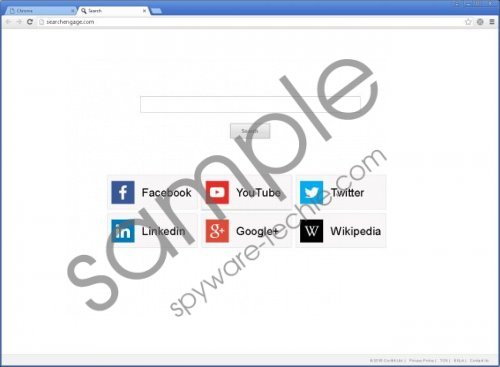 Searchengage.com screenshot
Scroll down for full removal instructions
There is a small likelihood in installing this tool deliberately and knowingly through official sources, such as the Chrome web store (chrome.google.com/webstore/detail/search-engage/aaehjjlljhmigellkdidoapcgkjblhoc). As a matter of fact, the counter shows as "many" as 240 users who have installed this search engine through this store. If you want to be careful enough before downloading and installing any software or tool, we advise you to perform a web search first. This could be a "lifesaver" when it comes to malware infections. For example, if you run the name or the individual Chrome ID (aaehjjlljhmigellkdidoapcgkjblhoc) of this search engine, you may find articles on the first page of the results that explain how and why you should delete Searchengage.com from your machine. This should be enough information for you to be able to decide whether it is worth or not to let this threat on board.
But our research shows that this browser hijacker is mostly spread over the web in freeware bundles containing malware infections. This is the real bad news here because instead of just one single threat, you may have to face a number of different ones, possibly including adware applications, browser hijackers as well as potentially unwanted programs. Such a bundle could be a major blow to your system; one that could end real badly if not addressed. You should know that visiting suspicious file-sharing websites and engaging with third-party content may result in downloading such malicious bundles. Therefore, it goes without saying that you should avoid contact with such websites and third-party ads as well. However, if you are not sure whether this infection came on board in such a bundle or not, you should run a malware scanner on your system to find out about the level of infection right after you remove Searchengage.com.
Our researchers have found that this is not the only questionable search engine that the creators of Searchengage.com are responsible for. Trovi Search (trovi.com) is also their "child," which is also an unreliable search engine. This hijacker offers you a search tool as well as six one-click access links to major websites, including Facebook, Twitter, and YouTube. These links seem to work just fine, although it is possible that this hijacker may be able to inject potentially harmful third-party ads through them. Nevertheless, the major issue here is the search tool itself. Unfortunately, this search engine uses a redirection that results in a modified Google search results page. This means that this hijacker may alter the results to include affiliated third-party website ads and links. However, these third parties are not reviewed, so it is possible that cyber criminals can lure you onto their malicious websites through ads and links. This could mean more malware infections but you can also end up with losing your identity and money to crooks. We suggest that you remove Searchengage.com as soon as possible if you do not want to experience any of these unfortunate scenarios.
Our researchers have found that all you need to do is reset your browsers to make this threat go away without a trace. If you do not have an idea about how to do that, please follow our instructions below. If you want to feel safe in your virtual world while using your PC, you should detect and eliminate all possible threat sources. If you do not want to or cannot do this manually, we recommend that you download and install a reputable anti-malware program, such as SpyHunter. This security tool can protect your computer from all known malware infections if you keep it always updated. Speaking of which, it is also important to mention that you should regularly update all your drivers and programs as well.
Searchengage.com Removal from Browsers
Internet Explorer
Press Alt+T and select Internet Options.
Click on the Advanced tab and press Reset.
Mark Delete personal settings and press Reset.
Click Close.
Mozilla Firefox
Press Alt+H and select Troubleshooting Information.
Click Refresh Firefox.
Press Refresh Firefox in the pop-up.
Click Finish.
Google Chrome
Press Alt+F and select Settings.
At the bottom, click Show advanced settings.
At the bottom, click Reset settings.
Press Reset.
In non-techie terms:
Searchengage.com is a questionable search engine that can enter your computer and make some changes in your browsers. Therefore, our researchers have categorized it as a browser hijacker. This infection can expose you to potentially unreliable web content through modified search results. Clicking on unsafe content may redirect you to malicious websites and you may infect your computer with more malware threats, not to mention the risk of getting scammed by cyber criminals in other ways. We recommend that you do not hesitate to remove Searchengage.com; the sooner, the better. If you do not want to clear this browser hijacker from your PC manually, we advise you to use a professional malware removal application that will also safeguard your system from further malware attacks.