Do you know what Searchencrypt.com redirect is?
Searchencrypt.com redirect is a browser hijacker that enters your computer with the intention to make a financial profit. Although this program cannot steal your money or your personal and financial information, it might still cause certain security issues that cannot be overlooked.
In this description, we will tell you more about such programs like Searchencrypt.com redirect, and we will also tell you how to remove it. This application is not a malicious computer infection that requires you to apply an antispyware program immediately. You can easily remove this program on your own, and we will show you how to do it.
Browser hijackers usually promote third-party content in order to gain some clicks. When users encounter third-party links that might be related to their likes and preferences, they are more likely to click them. Therefore, Searchencrypt.com redirect also displays modified search results when you browse the web. If you are wondering how this program knows what you like, the answer is simple: tracking cookies. Browser hijacker will do all they can to find out more about what you look for online and what websites you visit. With that information, the program can figure out what kind of content you would like to see when you surf the Internet.
Consequently, if you see links that supposedly are related to what you like, you might feel more inclined to click them. And this is exactly what Searchencrypt.com redirect wants from you. Browser hijackers make money through the pay-per-click system. Each time you click anything promoted by a browser hijacker, you generate a financial income for the people behind this application. Of course, you do not get anything in return, but practically, this kind of arrangement is not evil. The main problem, however, is that Searchencrypt.com redirect does not review the content of the links it promotes.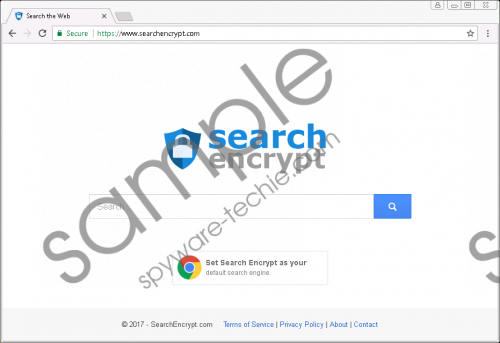 Searchencrypt.com redirect screenshot
Scroll down for full removal instructions
So what we are trying to say is that people behind this program may not want to infect you with malware, but they do not have a say in what links they promote. And if cyber criminals decide to make use of the browser hijacker's network for their own purposes, they might embed the search result links with potentially corrupted content. For the most part, those links will probably lead you to sites that promote commercial products and various online marking schemes. So, in general, they will be more annoying than dangerous. However, in the worst case scenario, the links could be part of the malware distribution network, and you would get infected with a dangerous Trojan or something like that.
Of course, the best way to avoid this hassle is to stay away from such programs altogether. When you know how the likes of Searchencrypt.com redirect spread around, you should be able to avoid similar intruders in the future. Usually, such programs spread via third-party installers. It means that when users download programs from file-sharing sites, they usually risk installing unwanted applications that might perform unsolicited modifications on their browsers.
Thus, if you were more careful about the applications you install on your PC, you should be able to avoid Searchencrypt.com redirect. What's more, this browser hijacker could also be distributed via pop-ups that are generated by other unwanted applications. It also means that you might have installed other undesirable applications before this hijacker entered your PC. Once again, we emphasize that exercising caution whenever you download new programs is extremely important. After all, it is a lot better to avoid such applications than to fight them. So you should always be ready to recognize potential threats when you encounter new software online.
As far as the hijacker's removal is concerned, it is very easy to remove Searchencrypt.com redirect on your own. As mentioned, you can find the manual removal instructions below, but it would be a good idea to scan your PC with a licensed antispyware tool because there might be more programs you need to get rid of, too.
If you acquire a licensed antispyware application, you will also be able to protect your system from other undesirable applications in the future. Therefore, do what is best for you and your computer's security. And if you have questions, do not hesitate to leave us a comment.
How to Remove Searchencrypt.com redirect
Internet Explorer
Press Win+R and type regedit. Click OK.
Open HKEY_CURRENT_USER\Software\Microsoft\Internet Explorer\Main.
Right-click the Start Page value on the right pane.
Choose Modify and edit your homepage address.
Press OK and close Registry Editor.
Firefox
Press Win+R and enter %AppData%. Press OK.
Navigate to Mozilla\Firefox\Profiles\[User ID].
Open the prefs.js file with Notepad.
Remove the user_pref("browser.startup.homepage", "http://Searchencrypt.com"); string.
Save changes and exit the file.
Chrome
Press Win+R and enter %LocalAppData%. Click OK.
Open Google\Chrome\User Data\Default.
Delete these files: Preferences, Secure Preferences, and Web Data.
In non-techie terms:
Searchencrypt.com redirect will change your default search engine settings because it needs to redirect you to affiliated commercial websites. This program can cause a lot of cyber security-related problems. To protect your computer from various threats, you need to remove Searchencrypt.com redirect at once. Please remember to check your system for other unwanted applications because such intruders seldom travel alone. When in doubt, always address a professional.